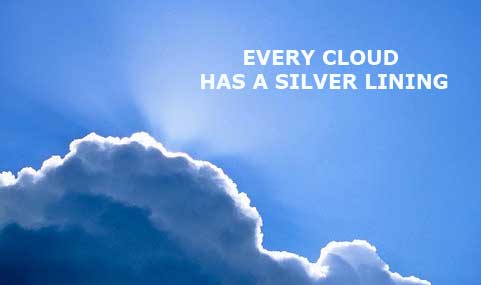 When life hits you hard, when it becomes miserable and painful. When all you see is darkness and no positive side at all then remember one phrase : EVERY CLOUD HAS A SILVER LINING.
This phrase has helped me a lot when I was going through difficulties in my life. 
I believe in this phrase. Every Bad situation has a positive side to it. 
Every bad situation will always give you back something positive. It will make you wiser. 
The lessons, the life teaches us in a hard way boons in our lives later. 
After a dark night there is always a bright morning which gives us hope and welcomes us.
So when you are in sorrow or in pain or in a very difficult situation, think optimistically about things even when they are not. Do not lose hope and give up. 
Sorrow, pain, difficult situation remain for a temporary period of time, time heals every wound. 
Seems very philosophical but it is true. 
Don't get too frustrated while difficult situations as frustration lead to instability which leads to wrong decisions and makes your life more complicated than it is already. 
Try to keep yourself calm, as it will help you more. 
During such times a person can easily get stressed out, so make sure you do things which help you to release stress. 
Always remember only after failure you get the true joy of success. 
There are so many great people who have faced failure in their lives but still stood up strong because they never gave up. 
Look upon such people to know that sometimes the small difficulties we face or failures we face are so much less than a person who is in greater difficulties. 
Very problem in this world has a solution, one must strive hard to achieve it. How much ever big a problem is one must learn to step forward and fight. 
One can just not sit and think, that my problem will get solved without doing anything. 
Nothing in this world comes for free to work hard to achieve it, once you do that you will be more happy. 
Problems in life teaches us very important lesson of values and principles. 
I guess that's why problem exists in first place. 
Your optimistic approach will always help you in your life, especially in times of difficulties. 
Do not get disappointed by problems or bad situation as they all happen for a reason. 
There are some things one cannot control, but one can definitely control is how a person thinks. 
So think optimistically and never give up hope.
SANIYA P. RANE
The following two tabs change content below.
I like to live life to the fullest , this is the reason why I love to write about various things in life and about life in general.
Latest posts by Saniya Rane (see all)