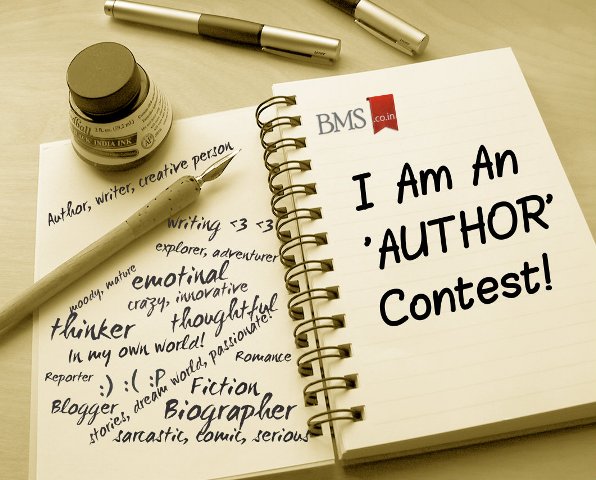 Don't miss to check BMS contest internship success story here : Degrees Are Great, but Internships Make a Difference!
What?
"I Am Author" Writing Contest i.e. you can write on any topic of your choice and become the participant of the contest.
Who?
BMS.co.in (No. 1 Bachelors of Management Studies Portal) is conducting "I Am An Author" online writing contest 
Read more about BMS.co.in : http://www.bms.co.in/about-us/
Cool, what's in it for the Winner?
There will be only 1 Winner from your college who will get the coolest opportunity to become an exclusive blogger with www.bms.co.in plus the super prestigious www.bms.co.in Certificate of Merit.
Hmm, anything for the Participants?
Yep. Participating in the contest means utilizing the best of your abilities and time to submit your amazing article within the contest deadline.

Getting your article published in No. 1 BMS website of Mumbai,

Publishing your article means visibility of having over a lakh visitors read your article.

Having your name, photo featured on the website along with your article link.

E-certificate of participation

You can mention about your participation in your portfolio / cover letter / Resume

Nothing to lose as the contest is free of cost.

No age limit

No academic background restrictions. Students from any course or year can participate

No topic restrictions. Explore your creative best and in case you need idea's visit 

www.bms.co.in
How to participate?
Select a topic of your choice.

Write an article of 500 to 700 words length and attach 2 to 3 related images of 640*480px.

In the Email subject line, please mention "Article topic / title"

Attach the article in .doc/.docx format with font size 12 (Times new Roman)

Mention in the mail – your name, college name, contact number, brief introduction about yourself, your photo

You may embed images, videos, etc to enhance the quality to their article.

DO NOT send copyright articles or copied content. Any entry found copied/plagiarized would be disqualified.

You can send as many articles as possible (there is no limit)

Keep checking 

www.bms.co.in

 till your article gets published.
Do you want this contest to be conducted in your college?  
Are you an Institute / Company who wants to reach out to the students and sponsor this event?
Contact us at 7715000100 for more details.
SO WHAT ARE YOU WAITING FOR?
Participate Now!