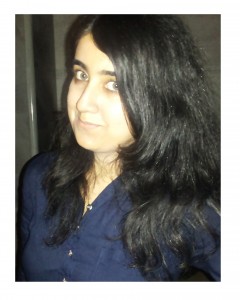 BMS Campus Representatives Motivational Success Stories
Q. 1) 5 Interesting Facts About YOU: 
Academic Achievements: Batch topper in 4th Semester Examination (March 2014)
Extra – curricular Achievements:
SVKM'S Training and Placement Coordinator for the year 2014-15
Class Representative of the BMS Department of Mithibai College (2012 – Present)
Certification of Chief Student Manager and Extension work from the Department of Lifelong Learning and Education.
Team Leader for a rally called RISE against Women Rape and Discrimination. (16th December 2013)
Worked as a committee member for the Management Festival of Mithibai College i.e "Colosseum" in the 'Marketing' department.
2) What is your aim / philosophy of life?

To constantly keep on seeking knowledge for continuous improvement of life and living conditions for myself and people around me.
3) What are your future plans after BMS?
I plan to take a work experience for 3 years in a growth oriented dynamic organization, which will expose me to the greater heights of growth and career development. And then pursue my MBA from a top institute abroad.
4) What are your hobbies / likes?
My hobbies are Reading, Travelling, Watching Sit-Coms (especially SUITS) and I know this is going to sound like an oxy-moron but I am a Foodie and a Fitness Freak!
5) Any dislikes?
No dislikes as such.
Q.2) 5 Fantastic Facts About Your BMS Life:
1) Positive / Negative things about your college?
Positives: First and foremost, THE FACULTY! They are the best you could ever get. Ever helpful and always there behind us guiding and motivating us at every step. Having such kind of a faculty is a dream come true!
Secondly, the infrastructure and facilities available in the college. It's more than what is expected at such a nominal fee.
Thirdly, It is one of the BEST colleges in Mumbai.
Negatives: To be honest, None at all. It's an amazing college and I would personally recommend it to any student who wants to join it.
2) Positive / Negative things about your BMS course?
Positives:
It is very industry oriented and teaches various aspects about management as a whole.
BMS is very informative about all subjects such as Marketing, Finance, HR, Operations, and gives an overall idea of all avenues thus not restricting a student to a particular field and he/she can decide which field he wants to get into at the end of three years.

Negatives:
It should include more subjects from courses such as BAF and BBI in order to help Finance – oriented students make a firm decision in the field.
Subjects are repetitive in some semesters
Each subject should be taught a little more in depth and should not just be brushed upon.
3) How has BMS course helped you to develop your personality? / What did you learn from BMS?

BMS has helped me develop my personality tremendously. The below points illustrate how:
As soon as I joined the BMS course, I was appointed as a Class Representative which helped inculcate a sense of responsibility and helped polish my leadership and interpersonal skills.
BMS also has a lot of presentations in every subject which give you the ability to talk in front of 100 odd people with absolute confidence and no nervousness.
It gives you knowledge about everything that takes place in a firm resulting in more awareness about a firm on the whole instead of a particular department.
4) What are the changes you want to bring in the BMS course?
Like I previously mentioned, addition of a few BAF and BBI subjects.
The specialization in the 3rd year to be extended from 6 months to 1 year.
5) Share your favorite BMS / college memories?
 Too many to share! It's been a beautiful journey, these years. From being a part of our festival Colosseum, to the various internships in these 2 years that I have completed, to leading RISE on 16th Dec 2013 and educating people on the roads about the increase in rape cases happening in the city to every single minute I have spent in the Mithibai campus. It has been amazing.
Q.3) What are the thoughts / advice / tips you would like to give to today's youngsters?
Don't compete with others. Compete with yourself. Strive to break your own goals and benchmarks. Work hard and also focus on extra curricular's because it's the balance of both that will help you achieve tremendous success in life.
Lastly, just be yourself. Everyone else is taken anyway.
The following two tabs change content below.
BMS Team aims to help the BMS students all over Mumbai colleges, empower BMSites and revolutionize management education. If you wish to be a part of our core team, write to contact@bms.co.in