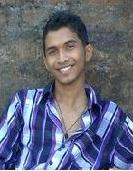 Name– Aryal Shyamal K.
College– K.P.B. Hinduja college of Commerce.
Tell us about your college
Hinduja college… a bright side of what we know as education. A place where a student feels the comfort of studying and gets to know the Practicality of life.
When did you join BMS? Which year you are in?
It's just been a year I joined BMS. I am in F.Y.BMS and in literal sense enjoying the course to an extent I can't define…
What inspired you to choose BMS and not any other course?
The open end syllabus, the scope of the course and the flexibility that it offers to the students were the chief inspiration that drove me to this course.
According to you, what is BMS all about? –
Its about the way in which one gets to learn the actual knowhow of the business and the environment. It's about the different aspects of Management that can be applied to different organizations and different situations.
What's special about your college? What do you love about it?
The teaching faculty and the college environment.
Who is your favorite teacher/faculty? Why?
All the teachers are good but my Personal Favorites are… Sheetal Mody Ma'am and Malathi Ma'am…the way they teach us is the best thing they have. The motherly care adds to their talent.
What has BMS life taught you?
BMS has taught me the actual way in which one must look forward towards Life- To create opportunity and strike hard when the opportunity calls for.
It has also taught me patience and perseverance in my life.
What was the happiest moment in BMS? The saddest? The most memorable?
The happiest moment was when I was the Principal's Nomination for the conference of '1st Parliament of INDIAN STUDENT'S COUNCIL LEADERS' where I got to meet dignitaries like A.P.J. Abdul Kalam, Kapil Sibbal, Nana Patekar, Kiran Bedi and many more.
There are no sad moments as such and the most memorable moments were when we successfully hosted our BMS festival NEXUS…Next is US.
Who in your life has influenced the most?
My Dad for sure. He is The Brightest and The Strongest Source Of Inspiration in my life…Every thing that is GOOD in My Life is what I have Derived From Him.
As a BMS student, what changes would you like to bring in management education?
The Internship Programme in Companies must be made a compulsory part of Management Studies so that we get to know the actual practical situations taking place in the Business Enterprises.
What would you advice someone planning to do BMS?
I would advice him/her to give priority to practical studies rather than running behind theoretical work.
3 Questions you would like to ask an MBA?
1. Being a Business Admin. How would you administer the Fraudulent Business Practices prevailing in the Indian Business Society?
2. Considering the present scenario of companies indulging into scams, what Roles can MBAs play in avoiding such scams further?
3. View on Indian Political Administration.
What are your future plans?
Doing MBA in Marketing and working In a Well Reputed INDIAN Firm and taking it to its utmost and Unexplored Glory.
What are you expecting out of BMS?
I am expecting My Life…to be bright and fruitful while doing BMS.
How is BMS.co.in? What help should it provide in future?
BMS.co.in is a wonderful site wherein students can know about their course's importance. I appreciate its initiatives towards The BMS students.
The following two tabs change content below.
Faisal Taibani
Faisal Taibani - Campus Representative, K.P.B.Hinduja College of Commerce.
[email protected]
Latest posts by Faisal Taibani (see all)