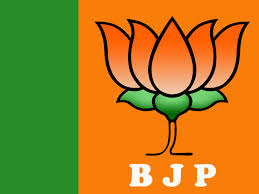 The people who cast the votes decide nothing. The people who count the votes decide everything. One of the penalties for refusing to participate in politics is that you end up being governed by your inferiors. Three BJP leaders were killed recklessly in five days. India is witnessing deteriorated law & order during the hour of crisis and lack of precautionary steps after the assassination of BJP leader Vijay Pandit, two more BJP supporters were shot dead.
Vijay Pandit, a prominent leader in Noida, was gunned down by three assailants on two motorbikes in Dadri. Uttar Pradesh Police arrested five people in connection with the case, including two people who police say are responsible for supplying arms to the assailants. According to police, no evidence has so far emerged to indicate the involvement of any political leader in Pandit's murder and it still remained to be ascertained if it was purely an act of vengeance or any money was to change hands as a result of Pandit's death. Pandit's wife Geeta had blamed the ruling Samajwadi Party leader Narinder Bhati for the murder of her husband.  She alleged that the murder took place at Bhati's behest due to election rivalry.
Om Veer Singh, a former Army man and local BJP leader was murdered in his village, Mirapur, in Muzaffarnagar in western Uttar Pradesh,  by unidentified gunmen on a motorcycle. A police officer said Mr Singh, 40, was also riding a motorbike, when he was attacked, at around 7 am. He tried to shoot back with his licensed revolver, but the gunmen shot him five times in a quick volley. He slumped to the ground and died. The attackers escaped, taking with them Mr. Singh's revolver. Police is now investigating the case and looking for motive behind the murder of the BJP leader.
Now BJP worker Puneet Singhal shot at in Bulandshahr of Uttar Pradesh. Singhal was an active party worker and member of the district's business community. A stationer in Gulawati market of Bulandshahr, Puneet Singhal had reportedly intervened in a dispute between the tenant and the employees of the owner of a neighbouring shop when he was shot dead by unidentified persons.  The shooting incident comes a day after BJP leader Om Veer Singh was shot dead in Muzaffarnagar district of the state.
It is enough that the people know there was an election. The question is: are BJP leaders safe? Let us not seek the Republican answer or the Democratic answer, but the right answer. Let us not seek to fix the blame for the past. Let us accept our own responsibility for the future.
– Tanvi Shah