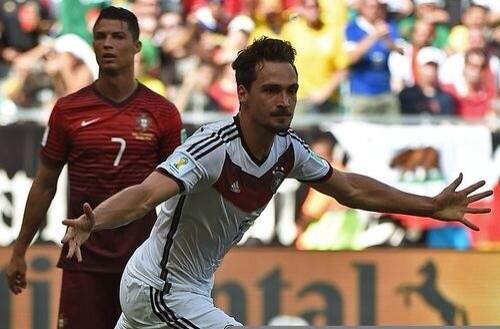 1)
R. Madrid players in the WC:
Marcelo- Own goal.
Ronaldo- Humbled.
Casillas- Still crawling.
Pepe- Cow.
Modric- Swimming naked.
Bale- At home
2)
Even you cannot bring Portugal to victory, you're still the best Cristiano Ronaldo !
#WorldCup2014
3)
"In January there was offer from Arsenal but I decided to stay. I will do the same this summer." – Julian Draxler (Source: BBC Sport)
4)
A man of the match performance from Thomas Muller has sent him to the top of the Golden Boot standings. #SSFootball
5)
Pepe's red card today for Portugal means he is suspended for their next game. Their opponent? The United States!
6)
USA-Portugal (minus Pepe) Sunday at 6.
6 days to:
1) Miyagi the Jozy hammy
2) Get Dempsey a mask
3) Fear Beasley v Ronaldo
#WinandAdvance
7)
My sister just said Cristiano Ronaldo would cross Messi….. Is she serious?
8)
Pepe's World Cup's gone from bad to worse because he's been awarded a 0