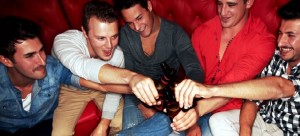 Bangkok
The place sounds so kind of like "olala" A place where guys go before their marraige to enjoy the so called last days of bachelorhood … The promising night life , various shows are the once not to be missed out. Shopping is what gals would go mad as you get all the copies of ogs in cheap price and you can flaunt them in your group without revealing anything .
Las Vegas:
The hangout place in the world for rich , spoilt brats would of course be Las Vegas. With it's promising range of night life and casinos, Vegas is the ideal place to go crazy with your wolfpack and let your hair down. New comers need not worry, for there are several shops that sell books on how to quickly learn gambling.Don't forget the famous saying – what happens in Vegas stays in Vegas!
Leh:
In the region of Leh, a few kilometers beyond the village of Stok, there is a range of mostly unnamed mountains that are a popular pick among backpackers. It is ideal for the peeps who are bike freaks and one can indulge in scaling peaks and steep slopes covered in ice.
Goa:
Also popularly known as Indian Miami , Goa is not a place one goes to only before marriage. However, before you visit the place with your better half, you must plan an all-boys or all-girls trip or a mixed group trip and make sure your better half is not here for a good time So lie back in the sand, have all the fun you can.
Spain:
Popular culture demands that Spain be placed in this list as well. This country of sun, wine and love is intoxicating in its culture. Squish tomatoes at the Tomato festival, witness the bull races that the nation is famous for and explore its intricacies and delights that will make your adrenaline rush in tact long after you've left!
The following two tabs change content below.
live lazzy ..... go crazzy ^_^ Berry pin - 7582495D <3 <3 intagram - ash_0309
Latest posts by Aishwarya Mehta (see all)