Asumal Thaumal Harpalani is the real name of the Hindu Godman whom we know and who call himself as "Asaram Bapu". His preachings include 'existence Of One Supreme Conscious'. Bhakti Yoga, Gnana Yoga and Karma Yoga are also considered to be major influences by him. He is currently of 73 years (born on 17th April 1941). Although he has approx. 400 major and minor ashrams all across India and International and a lot many followers but there are certain acts and controversies involving him that makes question on his 'Godman' title. His Recent five controversies are-
1. Asaram Bapu's son Narayan Sai used drugs for sexual potency and had a fetish for group sex. He was allegedly involved in a rape case at Surat. Out of the two victim sisters, the younger sister accused Sai of repeated raping her between 2002 and 2005 when she was living in Surat Ashram, the elder one accused Asaram of sexual assaults between 1997 and 2006 when she had been living in his ashram.
Also a recent news says that the cook who was a witness has been shot and is now dead. It is suspected to be done by Asaram's supporters.
Narayan Sai, Asaram Bapu's son


The news piece of the rape-case
2. In August 2013, Asaram was accused of sexually assaulting a 16-year-old girl at his ashram in Jodhpur by giving the reason for setting her free from the 'evil spirits'.
3. Asram's words on Delhi Rape case 2012 were, "Only five or six people are not the culprits. The victim is as guilty as her rapists… She should have called the culprits brothers and begged before them to stop… This could have saved her dignity and life. Can one hand clap? I don't think so."He also said that he was against harsher punishments for the accused in the Delhi rape victim case, as the law could be misused."
Asaram's controversial statement
http://www.youtube.com/watch?v=zV8M3JJ5wcw
4. LAND ENROACHMENT- Navsari District-2000
His organization was allocated a land of 10 acres in Bhairavi village of Navsari district by the Gujarat government but they enroached an additional 6 acres of land and also ignored repeated notices of Police and Municipal.

5. Yog Vedanta Samiti- 2001
For the Yog Vedanta Samiti Asaram was supposed given permission to use the premises of the Mangalya temple in Ratlam in Madhya Pradesh for 11 days but the samiti failed to vacate the land.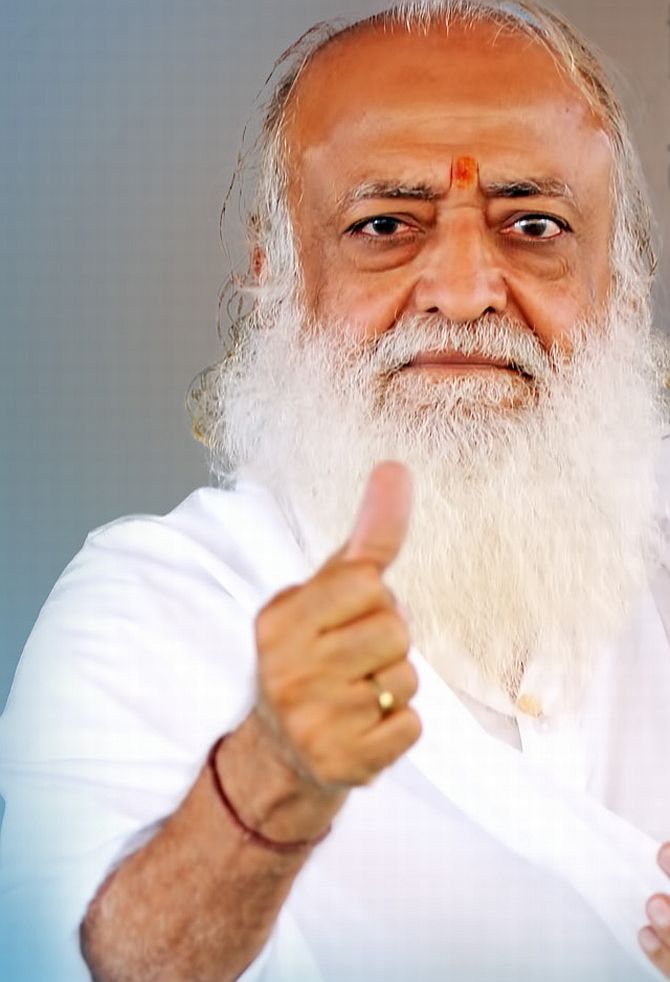 A debate on Asaram to be called a "Godman" or not
http://www.youtube.com/watch?v=pPGYLJCDFWY
He is currently now in Jail.
Mosquitoes seem to give him sleepless nights-