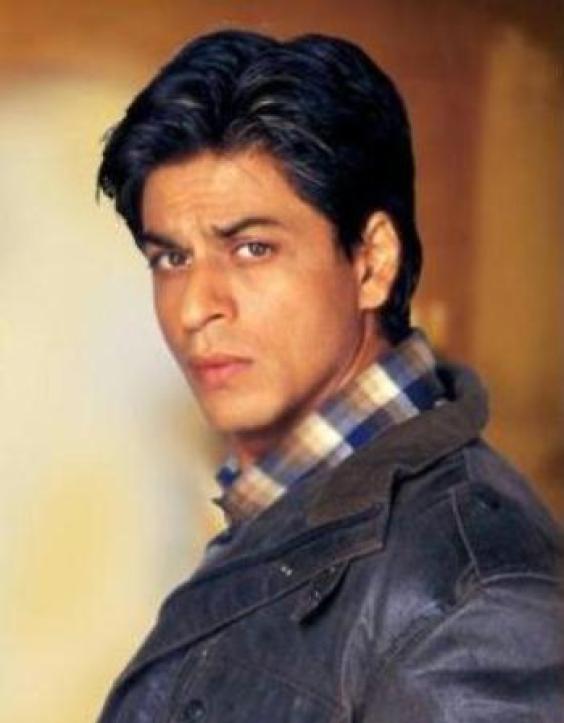 From a ordinary boy  in Delhi to one of the leading superstars in the country, Shahrukh Khan is one of the largest accomplishment stories in the industry today. Shahrukh made his debut in the Hindi Film Industry about 20 years ago with Deewana in 1992, a film that won him his first Filmfare Award for Best Debut Male.
In the last decade or so, Shahrukh khan secure his status as one of the most bankable stars in the country with successful films like Devdas, Chalte Chalte, Kal Ho Na Ho, Main Hoon Na and Veer Zaara. back-to-back successful films that started with Kabhi Alvida Na Kehna and continues with his latest blockbuster Chennai Express.
Let us look at worst performance by Shah Rukh Khan, which were so disastrous, which we wants us to forget badly!
1. KING UNCLE
King Uncle was directed by Rakesh Roshan and released 1993. The film also stars Jackie Shroff, Anu Agarwal, Paresh Rawal, Pooja Ruparel, Deven Verma and Nagma in key roles.
Ashok Bansal (Jackie Shroff) has a traumatic childhood which teaches him that money matters most to people, even more than their kids. Ashok starts hating poor people & starts working hard to get out of poverty. In the process of acquiring wealth, he neglects his family consisting of his younger brother Anil (Shahrukh Khan) and sister Suneeta (Nivedita Saraf). He gets Suneeta married to a man who turns out to be a golddigger whereas she is in love with Ashok's manager (Vivek Vaswani). Anil goes against his brother's highhanded ways and marries Kavita (Nagma) opting to leave the house.
Ashok's life changes forever when Munna (Pooja Ruparel) enters his life, having run away from an orphanage where the warden ill-treats the children. She initially creates havoc in Ashok's life but when he returns her to the orphanage, he realizes that he misses her. Realizing the importance of family, he decides to adopt her and mend fences with his own family. He frees his sister from her abusive husband and brings her back home.
2. OH DARLING YEH HAI INDIA
This an 1995 Indian musical  film directed by Ketan Mehta, and starring Shahrukh Khan, Deepa Sahi, Jaaved Jaffrey and Amrish Puri. It also stars Anupam Kher in an important supporting role.
The film was a social parody of movies which feature scenes remade as comedies from romance movies. The film was a flop at the box-office, but was highly regarded by critics as a smart and evocative satire of Bollywood cinema conventions.
3. ENGLISH BABU DESI MEM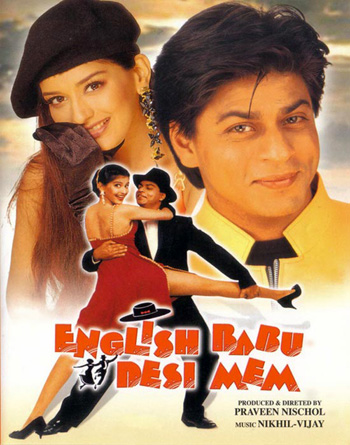 Released in 1996 starring Shahrukh Khan, Sonali Bendre and Sunny Singh.
Vikram Mayur, a rich Indian, born and raised in England, returns home to Bombay, to look for his late brother Hari's eight-year old son, Nandlal; raised by his caring aunt Bijuriya. Vikram faces a dilemma when he is torn between choosing to take Nandu back to England to learn his family's business or risk throwing it all away by staying in India to be with Bijuriya, whom he slowly falls in love with. This film features Shahrukh Khan in a triple role as Gopal Mayur and his sons Hari and Vikram.
4. Yeh lamha judaai ke
This delayed 2004 Bollywood romance mystery film directed by Birendra Nath Tiwari and produced by Ritesh Nayyar. The film stars Shahrukh Khan, Raveena Tandon, Navneet Nishn, Divya Desi, Mohnish Behl and Kiran Kumr. Written by Anirudh Tiwari, this film was actually filmed in 1994, but not released until April 9, 2004 apparently. This film was a box office disaster.
Dushyant and Jaya are childhood friends. In spite of his family's poverty, Dushyant has one great ambition in life: to become a successful singer. Jaya encourages him all she can and helps him to realize his dreams. But when Dushyant finally obtains the recognition he has craved for, his career becomes all-important to him.
 And How can we miss:
 5. Ra.one
Ra.One is a 2011 Indian science fiction superhero film directed by Anubhav Sinha, and starring Shah Rukh Khan, Arjun Rampal, Kareena Kapor, Armaan Verma, Shahana Goswami and Tom Wu in pivotal roles. The film follows Shekhar Subramanium), a game designer who creates a motion sensor-based game in which the antagonist (Ra.One) is more powerful than the protagonist (G.One).
The former escapes from the game's virtual world and enters the real world; his aim is to kill Lucifer, the game ID of Shekhar's son and the only player to have challenged Ra.One's power. Relentlessly pursued, the family is forced to bring out G.One from the virtual world to defeat Ra.One and protect them.
– Amey Khedekar
The following two tabs change content below.
BMS Team aims to help the BMS students all over Mumbai colleges, empower BMSites and revolutionize management education. If you wish to be a part of our core team, write to
[email protected]