Puttu :-
Ingredients :
Rice Flour – 2 cups
Grated Coconut – 1 cup
Ghee – 1/2 tbsp, melted
Water – as required (approx 2/3 cup), Salt – to taste.
Directions :In a large bowl, place the puttu powder. Add salt to taste to 2/3 cup of water and slowly add about 2 tbsps at a time to the puttu powder and mix it. Do not add all the water at once. It should be a bread crumb consistency and not form a dough. Add melted ghee and mix. Normally 1/2 cup to 2/3 rd cup of water is sufficient to wet 2 cups of puttu powder.
The right consistency of puttu powder is achieved when you take the prepared flour in your fist and close it to form shape. Leave aside this prepared rice mixture for an hour or two at room temperature. When the mixture sits, water is absorbed. After sitting time of 1 or 2 hours, if you find that the mixture is slightly dry, add a little more water and mix.
Add 2 cups water to the bottom vessel of the puttu maker and allow to simmer till hot. Wet the puttumould and lightly grease it. Place the round perforated disc with holes inside the puttumould such that it fits well at the bottom of the mould. Place 2 tbsps of grated coconut at the bottom of the puttumould.
Carefully and slowly pour about 6 tbsps of the puttu powder from a height followed by another layer of 2 tbsps of grated coconut. Again layer with 6 tbsps of puttu powder and finish off with 2 tbps of grated coconut on the top. Place the lid over the puttumouldannd place the mould over the water vessel.
Steam on high medium flame for 5-6 mts and 4 mts on low flame. Turn off heat and wait for 2 to 3 mts before removing the puttu from the mould with the help of a wooden ladle or skewer. Hold the puttumould parallel to the serving plate and with the help of a long ladle gently push the bottom disc such that the puttu slides onto the plate. Serve warm with Kadala curry or banana and pappadam.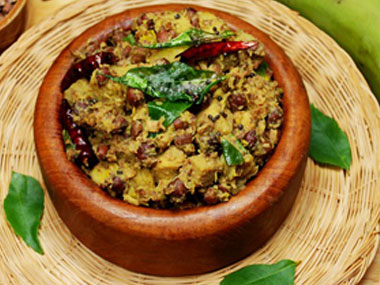 Koottu Curry (Varutherusserri) – Sadyarecipe :-
Ingredients :
KadalaParippu(Split Bengal Gram) – less than 1/4 cup
Raw Banana(Pacha kaya)-1Remove the outer layer/ tholimattiyathu (medium size pieces)
Chena(yam)-1cup (cut into medium size pieces)
Chilly Powder – 1/2tsp
Turmeric Powder – 1/4tsp, Salt
Curry leaves  -2 springs, Water – 1 1/2cup
Jaggery(sharkkara) – 1 small
Grated Coconut  – 2
Cumin seeds – 1/4tsp, Mustard seeds – 1/4tsp
Dry red chilly– 3, Pepper powder – 1tsp
Coconut Oil-5tbsp (u can decrease the oil if u want )
Directions :Soak kadalaparippu for 1 hour .Pressure cook this parippu by adding 1 cup of water, salt,chilly powder and turmeric powder.2 whistle is enough.After the pressure settle down open the cooker and add kaya and chenapieces .Mix well and pressure cook .After one whistle remove the cooker from the stove and allow to cool .Then open the cooker and keep aside .
Now grind 3/4 of grated coconut with cumin seeds to a fine paste .Add this paste to the cooked pieces and allow to boil in low flame .U can add 1/2 cup of water if the curry is too dry. Then add crushed jaggery and boil well. Then remove from the stove and keep aside .Now heat coconut oil in a kadaiWhen hot splutter mustard seeds,dry red chilly and curry leaves.Now add 1 1/4 grated coconut and fry in medium flame till the colour changes to  dark brown colour.
Finally add pepper powder to this coconut fry and fry for few more seconds.Add this coconut mix to the curry we already prepared .Now mix well.Check the salt. So traditional Koottucurry or as we say in thrissurvarutherusseri is ready to serve. Serve with Rice.
Thalassery Chicken Biriyani :-
Ingredients :
Chicken- 1 kg
Biriyani Rice- 1 kg ( 5 glass )
Onion – 6,chopped
Tomato – 3 big size, Green chilly-8
Ginger- a big piece, Garlic – 6 peeled cloves
Turmeric powder-1 1/2 tsp
Chilly powder-2 tbsp, Garam masala-1 tsp
Salt – to taste, Lemon-1
Curry leaves- 3 sprig, Cilantros – 2 sprig
Raisins-6, Cashew nuts – 6
Oil – 100 gm, Ghee – 50 gm and Water-7 1/2 glass
Directions : Making the chicken masala, Marinate chicken with 1tsp turmeric powder,2 tbspchilli powder and salt and keep it for 10 to 15 minutes.Sauté it it a frying pan by pouring oil for 10 to 15 minutes(Not fry).Heat a vessel and pour oil (you can take the balance oil that is used for frying the chicken) and put chopped onions by adding salt and saute until it turns brown color.
​Add tomatoes into it and saute well. Then add green chilly,garlic and ginger paste into and saute it too.Add ½ tsp turmeric powder into it.Now add curry leaves and cilantros into it. Add fried/cooked chicken pieces into themasala, mix well and close it with a lid and make the fire in simmer mode.Let it cook for some time.Open the lid after a few minutes and turn over the masala with a stirrer. Now our masala is ready.
​Making the biriyani rice :
Heat another vessel and pour oil.Put 1 cup of chopped onion into the boiling oil and fry it until brown color.Put raisins and cashew nuts into it and fry them too.Remove the fried onion, raisins and cashews from the oil and keep it aside. Pour the water into it and let it boil or you can add boiled water so that it will boil easily.Add the salt. squeeze a piece of lemon into the water.Add the cleaned biriyani rice into the boiling water and mix well.
Close the vessel with a lid and let it cook .Turn out the sides using a stirrer at regular intervals.Make sure the rice should not stick at the bottom of the vessel.Make the fire in simmer mode and check whether the rice is cooked or not.If not cook it for few more minutes.Now our biriyani rice is also ready.​ Switch off the fire.
Take the biriyani rice in a quarter plate or a stirrer and place it over the chicken masala and make a layer(1/3 of the rice should be placed over the masala).Make the fire in simmer mode.This is known as dhum.Put the fried onion,cashew nuts and raisins over it along with 1/4 tspgaram masala and cilantros.
Make another layer with the rice and put the above things.Again continue the layering and press the rice with a stirrer.Close the vessel tightly with a lid (You can place a weight over the lid so that it will be closed tightly). Then only the spicy taste of the masala joins with the rice.Let it cook for few minutes.Open the lid after 5  minutes and again retake the biriyani rice into the biriyani vessel using a stirrer until the masala portion reaches.Now our  delicious Thalassery Chicken Biriyani is ready. There will be some yellowish rice over the masala. Mix it along with the rice in the vessel.
 – Pratiksha Trivedi
The following two tabs change content below.
BMS Team aims to help the BMS students all over Mumbai colleges, empower BMSites and revolutionize management education. If you wish to be a part of our core team, write to
[email protected]