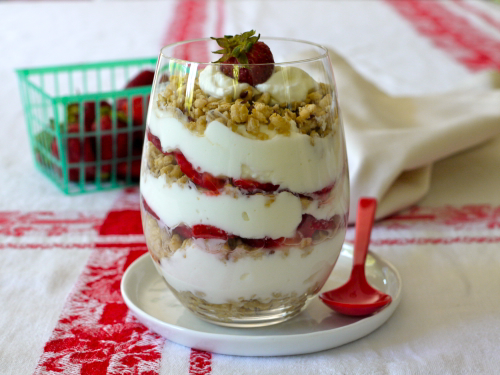 Breakfast is the most important meal of the day, skipping it won't be beneficial for your body. Here are top breakfast ideas for the morning.
STRAWBERRY PARFAITS
If you love eating sweet once you get up from your bed in the morning then this one is for you prepared from low fat strawberry parfaits.
ORIENT EXPRESS OATMEAL
If you are really busy in the morning then this breakfast option is just right for you. Take some oats and boil it with milk and add low fat yoghurt and blueberries on the top.
PEANUT BUTTER BANANA SMOOTHIE
Smoothies are very quick breakfast snack. Blend 1 frozen banana, 2 tablespoons peanut butter, 1 cup almond milk, and a few ice cubes. You can also add a scoop of your favorite chocolate or vanilla protein for an extra protein boost.
QUINOA FRUIT SALAD
Spice up a plain old fruit cup with a scoop of quinoa. Add a scoop of plain yogurt and a drizzle of honey for an extra taste.
FRUIT SOUP
For this tasty breakfast you need only two ingredient cold fresh fruit and cold milk. Chop 1 cup of fruit of your choice and combine it with a container with 1 cup milk of choice.
MORNING GLORY MUFFINS
An oat-based muffin packed with healthy carrots and zucchini, lightly sweetened with raisins and just a pinch of sugar makes a perfect breakfast or snack.
APPLE SURPRISE
Apples are perfect choice for the breakfast. Cut 1 apple in half and drop one tablespoon of nut butter between the two holes, and sprinkle in 1 tablespoon granola.
PEANUT BUTTER WAFFLE
Spread two tablespoon of peanut butter on whole-grain or bran toaster waffle. You can also sprinkle on 1 tablespoon of raisins, sesame seeds, or extra peanuts for even more fiber.
PLAIN DOUGHNUT WITH CHOCOLATE MILK
A plain cake style doughnut with some almonds for fibre and have low fat chocolate milk.
FRUIT AND CHEESE
Grab an apple and combine it with some cheese for that extra energy.
The following two tabs change content below.
Latest posts by Saloni Shetty (see all)