Arsenal… once called the as "invincibles" after winning the premier league in the 2003-04 season ,and doing so without losing a single league game. Arsenal has recently found it difficult to compete with other top notch teams of the premier league. Arsenal manager Arsene wenger is a club legend and one of the most reputed managers around. He has seen the club at its highs and lows in his 16 year career with the north London giants. But the Frenchman has received some stick from the fans, and football pundit's for focusing on technical ability, rather than athleticism in a physical league. Along with that the club has undergone a shift of stadium to the emirates, which created a huge debt and forced the club to sell some of their most talented stars like Fabregas, Samir Nasri, Kolo Toure, Ashley Cole and recently Robin van Persie to their rivals. This not only frustrated the fans but also showed its effect on arsenal's performance in the premier league.
But last season arsenal showed intent, Arsene wenger who was popularly taunted as manager miser. Wenger showed that he is not afraid to spill the cash when he bought German playmaker Mesut Ozil for 40 million euros. Thus showing his intentions that arsenal are ready to compete against the other moneybags of the league. But even with the assists of the "Assist king", Arsenal crumbled and could only manage to scrap to fourth place. Arsenal failed to prove themselves against the top three away from home, losing 6-3 to man city, 5-1 to Liverpool, and 6-0 to Chelsea. These loses proved that arsenal are not there yet in terms of title challengers.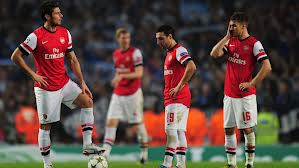 But all that could change, after ending the 9 year trophy drought last season by claiming the F.A cup, Arsene wenger has made two big signings so far and in an recent interview has warned other teams to beware. Arsenal have secured the services of barcelona's chilean star Alexis Sanchez and Mathieu Debuchy. "we are not done yet, we are looking for more quality players" quoted arsenal owner Gazidis. Already it looks like Arsenal are finally ready to make a big impact and win the league. And why not, Arsenal's quality one touch football is magical, and a treat to watch. With world class stars like Ozil, Cazorla, Sanchez and talents such as Walcott, Giroud and Ramsey, This could be the year of the gunners. With Arsene wenger's experience and technical approach, the quality players and one touch football, and world stars ready to make a move to the emirates, Arsenal are for sure the "dark horses" of the season. The diehard Arsenal fans are bracing themselves for an exciting season as it approaches, with high expectations and belief that, even if not invicibles again at least their team can be champions again after a long long time.
– Jainam Jhaveri