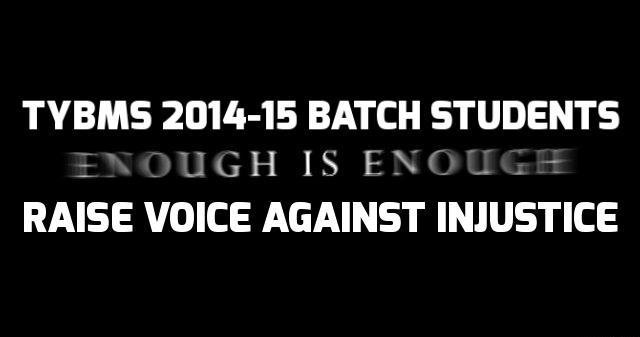 BMS Sem 6 CBSGS 75:25 results were declared on 17th July 2015 and few days back, TYBMS students got to check their marks online on the results website: http://muexam.mu.ac.in/results/result_temp.php
Since then, TYBMS students are really confused, irritated, frustrated and over-stressed. Read on to find out why!
"I never had an ATKT and to my surprise, it has happened this time. It happened with most of my fellow mates who have passed with flying colours. We were actually given the corrections of Q.1a and Q.2b which carries 7.5 marks each in the last hour. And we are supposed to be given 20 marks for the same. We need correction of marks in our Operations Research Paper.  Also not all colleges were given extra time to attempt the same. The question paper code is 21819. Kindly take some action at its earliest. We cannot afford to waste 1 whole year and are helpless."
"I am a BMS student, the results were declared last week and now that I have confirmed that I have failed in Operations Research subject for just 7 marks. OR being the subject where the university gave the corrections to the centre of exam late and they passed it onto us the students with added delay. Namely Q.1)a)and Q.2)b), Mr. Bhonde, the controller says the correction were minor but yes they were the ones which alter the calculations and these corrections were given to us in the last 40 minutes, wherein we had to complete our Q.3, Q.4 and the 15 marks Q.5. Not only it took a psychological toll on the students, but also we had to re-do 2 questions of a difficult paper and keep our pace. And to our surprise, the exam centre said no extra time will be given as they were advised so by the university and it's against the norms, a few students who rebelled were sent out of the class. In any case, a wrong question attempted, delayed corrections and no extra time a student deserves those 15 marks. It was the sole reason why many have failed even the ones who are regular A graders. We are in dire need to get the full marks for those 2 questions i.e. 15 marks should be given."
"I got only 20 marks in Operations Research paper which is next to impossible. I know what I have written in the paper. First of they made errors in question paper – Q.1b and Q.2b, then Mumbai University promises through the below news article in a newspaper that they will give the marks if we attempt. I have attempted the whole paper and I got only 20. They have made errors in checking also. Please help us MU!"
"We all know there was a goof up in OR paper in Q. 1b and Q.2b. Corrections were made in the end when only 15 minutes were left. Mumbai University has not given marks to the students who attempted all the questions because of which 30% of the students are failed in Operations Research. I got A grade in all subjects and had never got additional in the 3 years of the course. I just got 16 in OR because of which I am failing. My paper was good. I didn't expect 16 marks. Mumbai University should give us 20 marks so that we can pass. Please look into this issue and come out with a solution for us."
"I am writing this not only on my behalf because other students are also going through same situation what I am facing right now. OR paper was gone good. I have scored good marks on my unit test exam and classes test too. Paper was not too hard that I can fail in this subject. OR paper has been goofed up and we all students had to suffer from all this. Consistently scoring A and O grade in every subject and in 5th semester also and now in this semester I have failed. We all were eagerly waiting for results but not the output as unsuccessful. We are not able to take admission for our further studies as our career has been ruined right now with the goof up in results. Please we are requesting you Mumbai University not to spoil the student's career. Please give us our actual marks, a revised marksheet which has successful in it."
Are you satisfied with your OR marks? What do you think Mumbai University should do?
P.S. The names of the students have been kept anonymous on their request. Please feel free to raise your voice in the "comments" section below.
References: