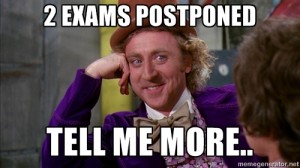 Yesterday we reported how the Loksabha Election Poll dates for Maharashtra were delcared 10th, 17th and 24th of February and how this would impact the T.Y.BMS sem 6 examinations.
For those out of the loop on the 24th of April T.Y.BMS students were supposed to appear for their Sem 6 International Finance paper on the 24th of April, but now with election dates declared this paper would wither be postponed or preponed was bieng speculated.
Certain segments of the media today reported that the T.Y.BMS papers to be held on 23rd and 24th of April will be postponed. Meaning your entreprenuership and small and medium enterprise development paper and international paper might be postponed.
This ofcourse is bieng speculated by the media, no concrete evidence of this is avaliable on the University of Mumbai's website.