1)
When In School, The First To Finish the EXAM meant,
"OMG!! he Knows Everything!"
Now at College, The 1st to finish means,
"Isko bhi GHANTA nai ata!":D
2)
Height of attempting unknown question in an exam…
Question: What is an Array..?
.
Student: ARRAY is the word used to call a friend.
Eg.
"ARRAY BHAI idhar aa…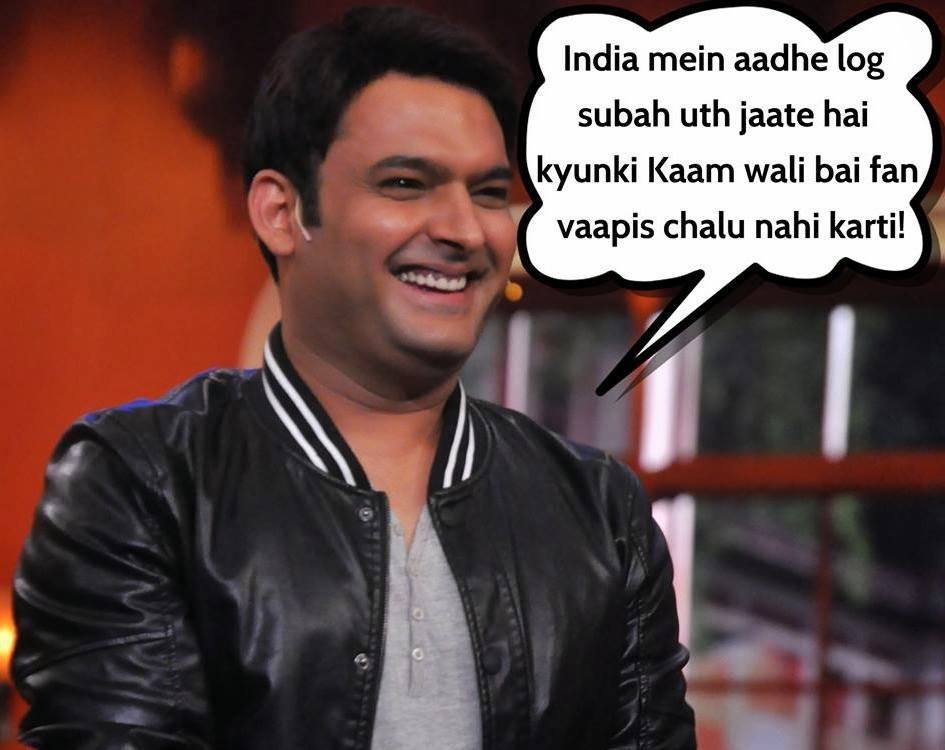 3)
Funny Facts About Engineers
1. For engineers every course apart from engineering is easy
2. An engineer has the power of getting up at 9.25am and reaching the class at 9.30 am.
3. T-shirt and jeans are engineer's national dress and Maggi is the national food.
4. A normal person will fix the broken things but an engineer will first break a thing and then he would fix it.
5. An engineer can build a car spaceship and they even can make time machine. However, he just can't build a relationship with a girl.
6. An engineer doesn't care for the rise in price of petrol or gold but he gets mad when cigarette costs Rs.8.0 instead of 7.0
7. An engineer loves to solve a problem. If there is no problem, then he will create one and would start solving it.
8. An engineer can derive any relation just give them the final expression
9. Are you made of copper(CU) and tellurium(TE), because you're CUTE
This is how engineers flirt
10. An engineers's worst nightmare is teacher taking the class but not taking the attendance.
11. An engineer can finish his syllabus in one night.
12. An Engineer knows nothing, but only an Engineer knows this.
13. An Engineer will never sleep in night and will never wake up in morning
14. An Engineer is the most innocent person in front of his parents.
15. Never argue with an engineer because arguing with Engineers is like killing the mosquito on your cheek, you might or might not kill it, but you'll end up slapping yourself.
16. The most common dialogue on the opening day of an engineering college is, "Bhai, iss saal bhi koi khaas ladkiya nahi hain!"
17. No one can speak better English than an engineer who is having bottle of beer in his hand.
18. There is always a hidden folder in engineer's laptop…
Share if u r a true engineer…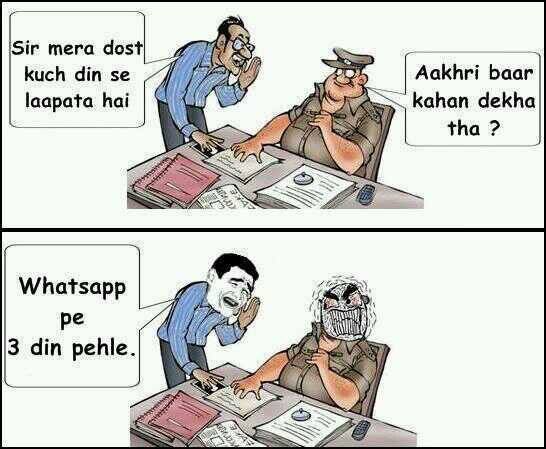 4)
Facebook – 3 Idiots Style:
Rancho: *Smiling*
Teacher: Aap muskura kyu rahe ho?
Rancho: Bahot dino se Facebook me account banane ki ichha thi…aaj bana diya hai…bohot maza aa raha hai.
Teacher: Zyaada maza lene ki zarurat nai hai…
Tell me, what is a Post?
Rancho: Anything that is posted on Facebook is a Post, Sir.
Teacher: Can you please elaborate?
Rancho: Sir…jo bhi Facebook pe log daalte hai post hai sir…
Ghumne gaye…photo daal diya! Post hai Sir.
Match dekha, score daal diya!
Post hai Sir…
Sir actually hum posts se ghire hue hai sir!
Katrina ki pic se Ronaldo ki kick
tak! Sab post hai sir!
Ek second me comment, ek second me like!
Comment-Like…
Comment-Like…
Teacher: Shut up! Account banake ye karoge?
Comment-Like… Comment-Like…?
Haan Chatur, tum batao.
Chatur: Pictures, texts or videos posted through mobile or tablet or laptop or desktop via different operating systems using internet on Facebook is called a Post…
Teacher: Excellent!
Rancho: Par sir maine bhi toh wahi
bola seedhe shabdo mein…
Teacher: Seedhe shabdo me karna hai toh orkut ya twitter ke pages pe account banao…
Rancho: Par sir dusre sites bhi toh…
Teacher: Get out!
Rancho: Why sir?
Teacher: Seedhe shabdo me bahar
jaiye.
Rancho goes out and comes back.
Teacher: Kya hua?
Rancho: Kuch bhool gaya tha sir.
Teacher: Kya?
Rancho: A utility button given to us, to protect our private data i.e. pictures, messages or personal information for being stolen or used for bad purpose by hackers or anyone else…
Teacher: Arre, kehna kya chaahte ho!?!?
Rancho: Logout sir! Logout karna bhool gaya tha.
Teacher: Toh seedha seedha nahi bol sakte the?!
Rancho: Thodi der pehle try kiya tha sir,
Aapko pasand nahi aaya…
5)
RAMji ke mandir ka hua karaar
Abki baar Modi sarkar
Ghuspetiyon pe bhaari vaar
Abki baar Modi sarkar
Arthvyavastha sudharna hai yaar
Abki baar Modi sarkar
Jaati bhed se mukt sansaar
Abki baar Modi sarkar
Samajsudhaar ke khule dwaar
Abki baar Modi sarkar
Nahi sahenge mehngaayi ki maar
Abki baar Modi sarkar
Sushaasan jo sabko dikhe aar paar
Abki baar Modi sarkar
The following two tabs change content below.
We, at BMS.co.in, believe in sharing knowledge and giving quality information to our BMS students. We are here to provide and update you with every details required by you BMSites! If you want to join us, please mail to
[email protected]