Jaipur, the largest city of Rajasthan is an epitome of magnificence and vibrancy. This city was established in 1727 by Jai Singh II, and is India's first planned city. Jaipur was the capital of former Kachwaha rulers and it so presents itself as a versatile tourist destination. This royal place is rich in heritage, culture and architecture. With splendid fortresses, majestic palaces, tranquil temples and beautiful havelis; Jaipur turns out to be an ideal tourist destination. It is not just the royal buildings and palaces that this city offers. Other than these captivating attractions, Jaipur displays exquisite handicrafts and spectacular jewellery. These intricate works of art add life and colour to this Pink City's uniqueness. Also, the serenity of lush gardens and floral array acts as the cherry on the cake of fabulous landscapes. All this make a picturesque view that tends to enthral any visitor.
Must visit Places
CITY PALACE AND S.M.S. II MUSEUM
Situated in the heart of the old City, it occupies about one seventh of the old city area. The palace is a blend of Rajput and Mughal architecture, it houses a Seven storeyed Chandra Mahal in the centre, which affords a fine view of the gardens and the city. Diwan-E-Am (Hall of public audience) has intricate decorations and collection of manuscripts, Diwan-E-Khas (Hall of private audience) has a marble pawed gallery. Mubarak Mahal has a rich collection of costumes and textiles. There is a Clock Tower near Mubarak Mahal. Sileh Khana has a collection of armory and weapons.
 JANTAR MANTAR (Observatory)
Built in 18th century by Maharaja Sawai Jai Singh II, the huge masonary instruments were used to study the movement of constellations and stars in the sky. Enormous sun-dial still provide accurate time, which are subject to daily corrections.
 HAWA MAHAL
Built in 1799, by Maharaja Sawai Pratap Singh, is the most recognizable monument of Jaipur. The 5 storied stunning semi-octagonal monument having 152 windows with over hanging latticed balconies is a fine piece of Rajput architecture. Originally designed for the royal ladies to watch and enjoy the processions and other activities, on the street below. Now it houses a well laid out museum. The display "Jaipur past and present" is the special feature of this newly setup museum.
 JALMAHAL
6 kms on the way to Amer, this small palace is set in the middle of Man Sagar Lake. A paved causeway leads upto the beautiful water palace.
JAIGARH FORT
15 kms. standing on a hilltop, overlooking the palaces and city of Amer. The world's biggest cannon on wheels- the Jai Ban is positioned here, built during reign of Maharaja Sawai Jaisingh. It has a twenty feet long barrel and pumped in the cannon for a single shot.
AMER
The old capital of the Kachhwahas stands atop a range of craggy hills. The fort is remarkable as much for the majestic grandeur of its surroundings as for its sturdy battlements and beautiful palaces. It is a fine blend of Hindu and Muslim architecture. The solemn dignity of its red sandstone and white marble pavilions, when reflected in the lake at the foot hill, is a sight to behold. The original palace was built by Raja Man Singh, the additional extensions were built by Maharaja Mirja Raja Jai Singh and Sawai Jai Singh II – the last Maharaja of Amer, who built a new city called Jaipur, where he shifted his capital in 1727.
The palace complex is lavishly ornamented and displays the riches of Amer. Sheesh Mahal chamber of Mirrors. Diwan-e-Am or the Hall of Public Audience is a beautifully proportioned hall open on three sides and stands on two rows of ornamented pillars. Diwan e-Khas or the Hall of Private Audience has delicate mosaic work in glass. Sukh mandir is guarded by sandalwood doors inlaid with ivory. Throughout the massive fort finely carved lattice windows, exquisitely painted doorways, halls and finely sculptured pillars crave for attention.
 NAHARGARH FORT
15 kms. cresting a hill about 600 ft. above the city, the fort was built in 1734. The walls of the fort run along the ridge and within are architectural beauties like Hawa Mandir and Madhvendra Bhawan.
CENTRAL MUSEUM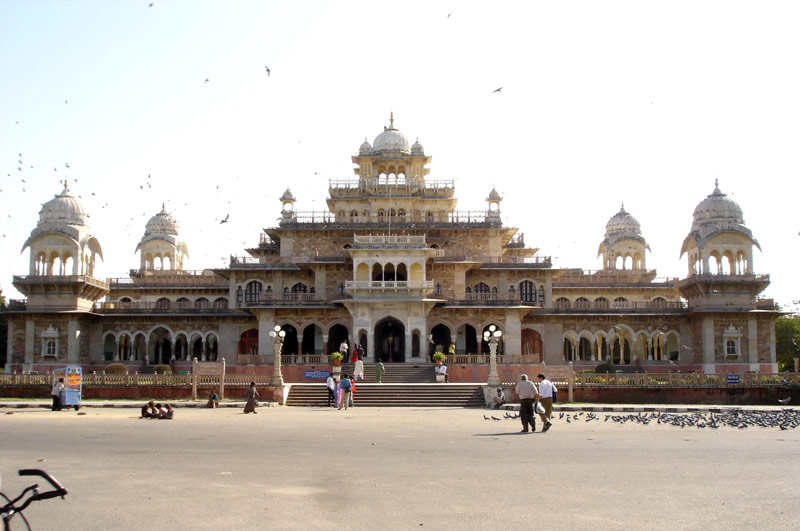 Situated in the Ram Niwas Garden. This graceful building was founded in 1876 by Prince Albert (also known as Albert Hall). It has a rare collection of archaeological and handicraft pieces.
BIRLA PLANETARIUM
It offers unique audio-visual education about stars and entertainment with its modern computerised projection system.
LAXMI NARAYAN TEMPLE
It is situated just below the Moti doongri, known for the intricate marble carvings in white marble, popularly known as Birla Temple.
KANAK VRINDAVAN
6.5 Kms on the way to Amer. This newly restored temple and garden, near Jal Mahal, has beautiful gardens and is popular picnic place. This is also beautiful location for film shooting.
 ELEFANTASTIC
Elefantastic offers the opportunity to get up close and personal with some of India's much loved elephants for a day. An elephant farm in an elephant care village, Elefantastic was formed in 2012 to promote the wellbeing of these giant creatures and show tourists that not all of them are mistreated. Before starting Elefantastic, Rahul (the founder) worked as an elephant rider for nine years. At Elefantastic, you'll be able to wash, feed and water the elephants, learn about elephant decorating and have a painting class, and learn about the elephants' medicines and treatments. Numerous options for elephant rides and safaris are offered, both in Jaipur and the surrounding countryside.
What to Eat in Jaipur ?
Dal Batti Churma
Recognised as a Rajasthan speciality, Dal-batti-churma, is a wholesome Rajasthani meal. Dal, or lentil curry, is served with Bhatti, a roundel of stuffed flour that's baked in a charcoal fire or oven. Choorma is a sweet dish made with flour, jaggery or sugar and ghee.  Bhatti comes in varieties acts as a substitute for rotis. You could opt for plain batti, or try the more exotic masala, dry fruit or missi battis. Batti is made out of wheat, flour, millet or a mix of maize and wheat flour, with loads of ghee.
 Mawa Kachori
A kachori filled with mawa and sugar syrup, this delicacy is not to be missed. It is available at all sweet shops.
Ghewar
A deep-fried sweet dish, Ghewar is in great demand during festivals such as Gangaur and Teej. It comes in varieties such as plain, desi ghee and mawa.
Mirchi Bada
Sharing prime spot with samosas and kachoris in the snack market are Mirchi Badas – green chillies dunked in besan and deep fried.
Rajasthani Subji
Gatte ki subji, Rajasthani curry, Mangori, Pakodi and Ker Sangari, the traditional subjis, are part of the daily meals here. A papad- plain or masala – is a must to sum up meals, as a tradition in Rajasthan.
Chapati/Roti 
What is interesting about Rajasthan is the variety of rotis one gets, even in the smallest eating place. Bajre Ki Roti, Makki Ki Roti, Jau-Channa Ki Roti, Besan Ki Roti, Cheelra, Paratha, Puri, Methi Puri, Rumali Roti… the list is endless.
The best time to visit this place is between October and March. Since the weather is pleasant during these months, that allows one to explore more of this place without getting scorched in the seething heat. This city of Rajputs is well known for its fairs and fests that are held on a grand level. The festivals include kite festival, camel festival, teej, gangaur, elephant festival, to name a few. The city witnesses maximum tourists during these days. To add on to its liveliness, this place has brilliant bazaars filled with bright turbans and ethnic attire, hand-dyed and embroidered textiles, pretty jewellery and delicious food. All these things can draw anyone towards them. Dressed in pink, this royal city of Rajasthan, Jaipur is the apt blend of heritage, palaces, culture and art and the flamboyance of this place can be experienced only by visiting it.
The following two tabs change content below.
Latest posts by Ayesha Patel (see all)