For a truly memorable stay, break free from hotel chains and check into one of these unusual hotels…
Hang Nga Guesthouse, Dalat, Vietnam :
In what could be seen as an homage to either Antonio Gaudí or mental illness, this trippy hotel by Vietnamese architect Dang Viet Nga has become a popular attraction. Mushrooms, spiderwebs, portholes, and tree roots are sculpted into the organic concrete form, and each of the 10 guest rooms at "The Crazy House" is named for an animal. Choose wisely; those burning-bright eyes in the tiger suite will surely keep you awake.
IceHotel, Jukkasjärvi, Sweden :
ICEHOTEL is the world's largest hotel made from snow and ice. Guests can sleep in a bed made of snow and ice (like most of the other furniture), at temperatures around minus 5 degrees C. The entire building melts and gets reconstructed every year. Each November, a team of architects rebuilds the rooms, bar and chapel from several hundred tons of ice. If your ideal vacation consists of walking around in snow pants and fur, ICEHOTEL is worth a repeat visit—it is, after all, a different hotel every year.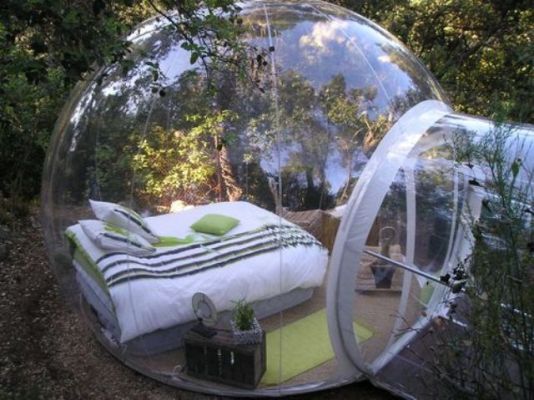 Bubble Tree, France :
These transparent inflatable pods are not for guests requiring either privacy or pitch black to get some shut-eye. The airy architectural bubbles were designed by Pierre Stéphane Dumas and have proved popular all across France. Eight locations currently use them as guesthouses, including one on the grounds of the 16th-century castle Château de la Forêt. Ideal for stargazing; maybe not so much for honeymooners.
Earthship Biotecture, Tres Piedras, New Mexico :
Before we abandon Earth for another planet, it'd be useful to test out the potential new digs. The Earthship Project has been at it since the 1960s and in 1997 began allowing guests to sleep in its sustainable pods (for periods of less than an eternity). Made from recycled or sustainable materials, the earthships recycle their own gray water, generate their own power, and grow their own food. They're also equipped with amenities unlikely to be found in outer space: Wi-Fi, TV, and streaming Netflix.
Mirror Cube, Harads, Sweden :
Childhood treehouses never looked like this. Leading Swedish architects give the backyard staple a strange futuristic makeover at the Treehotel (completed in 2010, it was inspired by a film about three men who rediscover their roots by building a treehouse). Each treetop suite has its own look, whether resembling a bird's nest or a flying saucer, or seemingly constructed entirely from Lego blocks. The most ingenious appears constructed from nothing at all: the mirrored exterior reflects the forest on all sides—as if creating a gap in the space-time continuum.
Poseidon Undersea Resort, Fiji :
"Under the sea," sang Sebastian in The Little Mermaid. Dropped 40 feet below the surface of the clear blue Fijian Lagoon, these 24 underwater suites are reached by an elevator. With all the comforts of a five-star hotel, most are surrounded by transparent acrylic walls that allow for spectacular views of the ocean and its fishy inhabitants. Guests are invited to interact with the surroundings — at the push of a button the fish are fed, and the flip of a switch turns on sparkling underwater lights.
Hotel Kakslauttanen, Finland :
Being suffused by the northern lights from the inside of a glass igloo is one of the more novel ways of admiring one of nature's most stunning phenomena. Located within the Arctic Circle, deep in the snowbound Saariselka area of northern Finland, the cabins are built from ice or glass; both are surprisingly warm, but somewhat lacking in privacy.
Adrere Amellal, Egypt :
Desert palace meets bedrock at Adrere Amellal. This extraordinary eco-lodge sits in the middle of the Saharan oasis at Siwa, eight long, dusty hours' drive from Cairo. Surrounded by endlessly shifting sand dunes 18 meters below sea level, and overlooking a shimmering salt lake, the lodge is built from salt rock and mud. Candles light up the rooms (there's no electricity) and staff float around in flowing hooded robes, completing the feel that you've just stepped into a biblical scene.
The Balancing Barn, England :
This precariously perched hotel was built by Living Architecture, the brainchild of Swiss philosophical writer Alain de Botton, who wrote "The Architecture of Happiness." The group created a series of homes in the United Kingdom based on high-quality, modern architecture and de Botton's work on the connection between environment, architecture and happiness. On the edge of a nature reserve, the Balancing Barn in Suffolk sleeps eight people. Clad in silver tiles and with large windows giving great views, it's also won a series of travel and design awards. Living Architecture also runs a boat-shaped room where you can spend the night, perched on top of the Queen Elizabeth Hall on London's South Bank.
   10. Aydinli Cave Hotel :
The hotel has six individually decorated rooms. Two of them are suites, one with a separate sleeping area that makes it ideal for a small family. Most rooms have stone fireplaces. All have cool, travertine-lined bathrooms, some with Jacuzzis, most with walk-in showers and hamam basins. Chimneys turned into the sort of quirky features that make this a real place to remember. Right at the top of the hotel the breakfast terrace looks straight out over the pretty older part of the village with its honey-colored houses and mosque. Breakfast consists of an open buffet, topped up with seasonal fruits and, perhaps, with freshly cooked Börek. The Aydınlı Cave House is a five-minute walk uphill from the bus station, and the cafes, restaurants and shops of the town center.
   11.  Magic Mountain, Chile : 
The Magic Mountain Hotel in Chile's Hulio Hulio Reserve looks like something straight out of a fairytale: a gnarled, wooden cone with a waterfall cascading from its pinnacle, approached via a wooden drawbridge and with porthole windows peeping out at irregular spaces. As if that weren't magic enough, it's surrounded by a pristine biological reserve.
BY PRATIKSHA TRIVEDI
The following two tabs change content below.
BMS Team aims to help the BMS students all over Mumbai colleges, empower BMSites and revolutionize management education. If you wish to be a part of our core team, write to
[email protected]