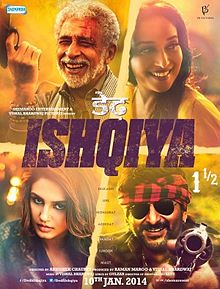 Starring: Naseruddin Shah, Madhuri Dixit Nene, Arshad Warsi and Huma Qureshi. Directed by, Abhishek Chaubey and Produced by, Vishal Bharadwaj and Raman Maroo; this one is sure shot movie to take, not just for Madhuri lovers but also for audiences who are looking for the old style grandeur and mellifluous dialogues coupled with comedy Khalujan and Babban style.
The two and half hour movie revolves around Nasseruddin Shah and Arshad Warsi as Khalujan and Babban who steal an expensive necklace and are separated. The latter ends up in a pit, with local strongman Mushtaq (Salman Shahid) and his men all but ready to bump him off.
But Babban talks his way out of trouble and goes in search of Khalujaan, who, the younger man has reason to believe, has pulled a fast one on him.
The latter, now in the guise of a poetry-spouting nawab, walks into the swayamvar of the widowed Begum Para, the ruler of Mahmudabad (Madhuri Dixit).
The lady has decided to remarry the best versifier in town and everyone is out to make an impression on her.
Even bigger trouble brews for Khalu and Babban as a smarmy politician, Jaan Mohammad (Vijay Raaz), throws his hat in the ring.
But in Mahmudabad, nothing is what it seems, and the Begum and her lady-in-waiting Munira (Huma Qureshi) have a few tricks up their pretty sleeves.
Dedh Ishqiya is filled with many delights: the repeated banter between Khalu and Babban, Khalu's efforts to woo the Begum and bring her out of her self-imposed exile from dance, Babban's typically brazen attempts to win Munira over, and of course the dangerous cat-and-mouse game that they all play with the unrelenting Jaan Mohammad.
All of this works wonderfully well because the acting is of a consistently high order. The two spirited women in this male-dominated landscape play second fiddle to none and get their own back with ease. The movie is mostly in Urdu and the sweetness and regalia of the sher-o-shayris and the entire grandeur is a pleasing change after a long time.
Madhuri as always is fantastic and so is the entire cast. Huma Qureshi holds her fort alongside Madhuri at utmost ease. Khalujaan and Babban are amazing as always.
Our take: Sure shot watch this weekend!
The following two tabs change content below.
'Ever Learning, Ever Evolving, Never Giving up' sums up www.bms.co.in's Content Manager and passionate writer, Ami. She is a BMS graduate who has freelanced in the past with the top Indian newspapers and magazines. Apart from writing she also likes to indulge into travelling, photography and social work.
Latest posts by Ami Pandya (see all)