Now that's weird: Farmer flooded with offers after placing AD for wife outside farm.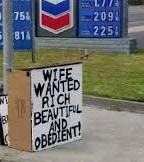 A German farmer has been flooded with offers after he hung a sign outside his farm indicating that he was looking for a wife.
Roland Geiger said that he "can't get any work done" ever since he placed the advertisement as people are contacting him regarding it.
Geiger, who placed the advert which read "Farmer without any animals is looking for a wife" outside his farm in Freiburg, has revealed that his sign didn't receive much attention till he was featured in a local newspaper report.
The following two tabs change content below.
'Ever Learning, Ever Evolving, Never Giving up' sums up www.bms.co.in's Content Manager and passionate writer, Ami. She is a BMS graduate who has freelanced in the past with the top Indian newspapers and magazines. Apart from writing she also likes to indulge into travelling, photography and social work.
Latest posts by Ami Pandya (see all)