An Interview with Prof. Prerna Sharma, BMS Co-ordinator, Pillai College of Arts, Commerce and Science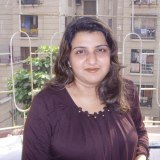 Tell us something about yourself and your college.
I have done M.Com, M.Phil, MBA (Human Resource Management & Marketing), NET.
 Pillai College of Arts, Commerce and Science was established in 1998 by Dr. K. M. Vasudevan Pillai whose vision was to provide students of Navi Mumbai with quality education in a high-tech atmosphere. It is situated in a 10 acre land surrounded by natural beauty and supported by the best infrastructure facilities, a state-of-the-art conference room, well-equipped computer labs and well-stocked libraries. Our vision is "Education for All". To fulfill our vision, we welcome students from diverse backgrounds irrespective of region, religion, caste, economic strata and academic performance. It also encourages more students and teachers to participate in the International Exchange Program with St. Mary's College of Business and Economics, California, U.S.A.
With the right kind of teaching-learning atmosphere our institution has provided the right platform to sharpen skills and move forward at a rapid pace. Principal Dr. Daphne Pillai and Vice-Principal Mr. A.N. Kutty have been a mentor all along, guiding and inspiring to innovate and supporting to equip the students with the latest stock of knowledge.
When did you join this profession? What inspired you to choose this line?
My passion for teaching motivated me to choose this profession. I started teaching in the year 2005 and truly believe that knowledge has no boundaries and can be increased by sharing.
As a Coordinator, do you also teach any subjects? If yes, which subjects you teach?
I teach  a number of subjects, to name a few are, Human Resource Management, Retail Management, Marketing Management, Special Studies in Marketing, Indian Management Thoughts and Practice and  Research Methodology in Business.
How are the roles and responsibilities of a Coordinator different from that of a faculty? Do you like being a Faculty or a Coordinator? Which helps you to connect more with students?
Being a Coordinator apart from teaching one has to look after the welfare of students and the smooth functioning of the department. Certainly without handling the profile of a coordinator it would be difficult to establish the right kind of rapport with students to be able to handle the different issues faced by them. Apart from counseling students, expert lectures, guidance sessions, management fests, seminars, workshops ,bridge course project guidance, mock vivas for the final year students are some of the activities undertaken in the right earnest.
Who in your life has influenced the most?
My parents, my siblings and my husband Yogesh have always believed in me and their unstinted support and encouragement has helped me make the right moves in life. I would also like to make a special mention of my Commerce HOD, Seema Somani and my colleagues Mmahek Chhabria, Kavita Baddi and Aarti Sukheja for  motivating me and feeling happy for my endeavours.  
Tell us something about your college fests/events and extra-curricular activities? Do you believe that it should be made compulsory for students to manage both studies and be a part of college fests/events?
We encourage our students to participate in inter-collegiate fests organized by other colleges in Mumbai and it is my pleasure to place on record that our college bagged the "Best College" title for the year 2012-13 by Western College, Navi Mumbai.
B.M.S. students at our institution get an opportunity to participate in a number of fests. Students were greatly benefitted from the   Inter-Collegiate Fest 'EXPRESSIONS' and  our upcoming Fest 'ALEGRIA'  is going to host a number of events to enable students to display their talents. Inter Collegiate B.M.S. Fest "CORPROVA" was organized this year which was completely managed by the students  and was a big success.  
We have different committees like N.S.S., Students Council, Management Association,
Mathematics and Statistics Association, Literary Association,  Entrepreneur Development Program Cell,  Nature Club, Gymkhana, Computer Association, Research and Extension, Economics Association  and others which provide students a platform to display their talents.
Students must be exposed to activities beyond their curriculum for instilling confidence in them , helping them explore their talent and giving them hands on experience of managing events..
Tell us something about your college students' performances? Does your college provide any placement assistance to BMS students? 
Performance of our students is overwhelming not only in Academics but also in extra-curricular activities. Our students have got accolades in a number of Inter – collegiate competitions in both sports and cultural activities. We have many first prizes to our credit. To name a few : bagged the 'Best College' title in the Inter-Collegiate Fest organized by Western College, Navi Mumbai, 'Best Actor' in Theatre Events at the Youth Festival organized by Mumbai University, 'Winners for Tug of War' in Battelefields Inter – Collegiate Fest by our college and  second rank in Ball Badminton event in the Mumbai University Inter-Collegiate Competition.
We have succeeded in placing our students in corporate big – wigs like Wipro, Infosys, Larsen & Toubro and the like.
What are your future plans for the college?
Our future course of action is to add momentum to our mission of achieving excellence in education by maintaining high standards of teaching, shaping talents of students by exposing them to higher platforms, getting them involved into research activities, arranging maximum corporate visits for sharpening  their practical skills.
What are the prospects after B.M.S.?
After B.M.S. students can pursue a  career in  Human Resource Management, Marketing Management, Financial Management, Retail Management and other allied areas. Students can also pursue post graduation programs in India as well as abroad.
What message would you like to give to B.M.S. students?
My message to the student fraternity is that make maximum use of the  learning resources available to become equipped enough to be able to face the fiercely competitive world and stand out from the rest. 
Your suggestions/feedback for B.M.S.co.in?          
My heartfelt wishes to BMS.co.in for taking the initiative of launching this website which will enable us to get all the relevant information with the click of a button. It will also provide a platform for information sharing for both students and faculty.