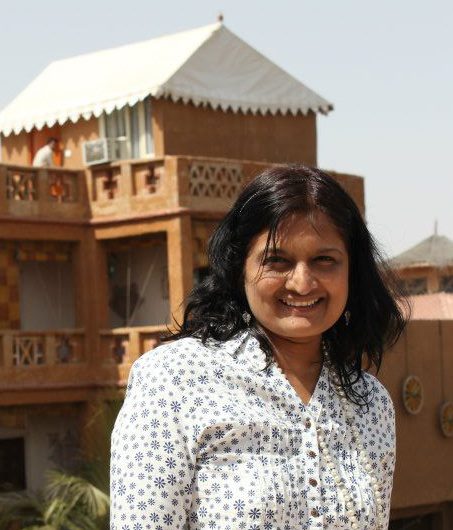 Tell us something about yourself and your college.
I have done my M. Phil and Ph.D from Mumbai University.  I received the Ford foundation fellowship for my doctoral research on 'Multinational Corporations as Global actors: A conceptual study'. ICLES' M.J. College is situated in Vashi, Navi Mumbai. It has a B++ rating by NAAC. The BMS course was started in 2002.
When did you join this profession? What inspired you to choose this line?
I joined the teaching profession in 1998. I was always interested in participating in seminars and quiz competitions during my college days. I enjoyed reading and research.
As a Coordinator, do you also teach any subjects? If yes, which subjects you teach?
I teach Foundation of Human skills and Public relations Management to the BMS students. I am also a coordinator of BMM. I teach Organisational Behaviour, Mass Communication, Contemporary studies, Public relations to the BMM students.
How are the roles and responsibilities of a Coordinator different from that of a faculty? Do you like being a Faculty or a Coordinator? Which helps you to connect more with students?
The role and responsibility of a coordinator is more challenging. A coordinator is responsible for the smooth and efficient working of the entire department.  The coordinator has to organize and schedule lectures, ensure attendance of students, Participation of students in co – curricular and extra-curricular activities, co-ordinate research projects of students and organize expert lectures, workshops and the inter- collegiate festivals. I like being both a faculty and a coordinator.   Being a coordinator, helps me to connect more with students as I am involved in every aspect of the dept. and in the personality development of the students.
Who in your life has influenced the most?
My father has influenced me.  He has been my role model and taught me the basic values of life that I uphold and follow.
Tell us something about your college fests/events and extra-curricular activities? Do you believe that it should be made compulsory for students to manage both studies and be a part of college fests/events?
We conduct an orientation course for first year students aptly called 'Empresario' meaning young entrepreneur. This orientation is to help them make a transition from junior college to a professional course. Our dept. hosts the annual inter collegiate festival Astra. Astra is a mix of management, cultural and fun events. We have been the pioneers in organizing the competition share market – a simulation of the stock market. We have also been promoting a social cause. Last year, we associated with the Helen Keller Institute for the deaf and blind. This year Astra is on 29 and 30 January 2013 at the college campus and NMSA, Vashi and the cause we have taken up is safety and security of women. Participating in college fests should be made compulsory. Students should participate and develop their management and organizational skills.
Tell us something about your college students' performances? Does your college provide any placement assistance to BMS students? 
Our students have been doing exceedingly well. Many have joined MBA and other PG courses. Some have become entrepreneurs. We do provide placements to students. The placement cell in coordination with the dept. conducts campus interviews.
What are your future plans for the college?
The future plans are to conduct more seminars on presentation skills and give more research guidance to students. We propose to conduct more campus interviews for them.
What are the prospects after BMS?
After BMS, the prospects are good as students are equipped with basic management skills. They find it easier to do well in all the competitive exams. They can do a PG at a good institute or start working in good companies. Some have also started their own ventures.
What message would you like to give to BMS students?
My message would be to be sincere and dedicated towards their studies, to show interest in all the activities of the college. It is crucial for them to develop their confidence and personality in these three years.
Your suggestions/feedback for BMS.co.in?       
Congrats on the good work. Website like this will help them to get access to information related to their syllabus, college fests etc. Maybe you could make it more interactive. Internship offers for BMS students could be posted.