White is the color of sophistication.And white pant when worn right can make a huge style statement.There are certain strategies for matching clothes with white pants.They are as follows:-
General Strategies for Matching Clothes with White Pants
1
 Mix and match your materials. Playing with a variety of materials of different textures will help make your outfit look more visually appealing. You can try wearing a smooth satin or silk blouse with a plain white jean or a ribbed sweater with a smoother polyester-blend slack.If your top is the exact same material as your white pants, then you'll need to make sure that the colors contrast a bit, or that you're wearing a belt, jacket, or other accessories to break up the monochromatic look.
2
Choose a color scheme. You can think of a pair of white pants as a blank canvas — you can put almost anything on it and make it work as long as you have some forethought. When you consider a color scheme for your white pants, you can think of the following options:Go with all white. Create the ultimate clean, crisp appearance by pairing a simple white blouse with your white pants.
Add some contrasting neutrals, such as black, gray, tan, or brown. Wearing other neutrals can give your style a sophisticated edge.Give your outfit a boost of color. Bright colors will give you a bolder and more fun look, while paler shades will create a softer, more feminine appearance.
3
Choose a shade of white. There are a variety of colors that fall under the category of "white," though most shades can either be considered a bright white or an off-white. Bright white is more like a piece of paper, and off-white is a softer, less bright color. Here are some things you can try as you think about the shade of your white pants:Match bright, "pure" white pants with cooler tones. For neutrals, go with black, gray, and silver. For colors, choose blues, purples, and blue-tinted greens like turquoise.Match cream or off-white pants with warmer tones. Tan, brown, and gold make the best options for neutrals. For colors, go with reds, oranges, yellow-tinted greens, and red-tinted purples like magenta.
For Wide-Legged Pants
1
Pair a tight black t-shirt with your white wide-legged jeans. This will create a look that is classy and fun at the same time. You can dress up the outfit by wearing a pair of black or gray sandals, and wearing some silver accessories, such as a long silver necklace or hoop earrings. This is a stellar look because the tight black shirt will create a nice contrast with the wide-legged pants. You'll still be able to show off your curves about the waist while covering your legs a bit more.A cute belt can add some flavor to this outfit. Since your waist may be visible or somewhat visible because of your tight top, you can think about wearing a simple black belt.
2
Pair a fitted button-down shirt with white wide-legged trousers. This will create a more formal look. You can match this outfit with a pair of stilettos or even some strappy heels. Any color of shirt will do: a darker color will create more contrast, and a softer light shade such as pink or light purple will create a more subtle, flowing look.
3
Pair a form-fitting sweater with white wide-legged pants. This is a great look for the cooler months. You can wear a regular v-neck sweater, a turtleneck, or any other kind of sweater that doesn't hang too loosely. Remember that since the wide-pants are more loose, a tighter top will create the most balance for this look.You can rock this look with a pair of ankle boots with a narrow heel. For a more casual look, a cute pair of clogs will do the trick if it's not too cold.
Cigarette-Cut Legs
1
Pair a loose-fitting patterned blouse with a pair of white skinny jeans. This is a great way to show off your longer, slender legs. Matching a loose top with tight pants will let you flaunt your bottom half while wearing a fun and flouncy top.To show off your legs even more, throw on some strappy heels. The higher they are, the more they'll do the trick.
2
Match a long, free-flowing tunic with cigarette-cut white pants. Choose a tunic in a solid color or a simple pattern, and tie a sash or belt around your natural waist. If the tunic doesn't have a pattern around the neck, wear a long, fun necklace. If it does, try a simple pair of earrings to accentuate your look.Wrap the look together with a pair of narrow heels.
3
Wear a loose, flowing blouse with cigarette-cut trousers. Choose a blouse in a solid neutral color to create an elegant look. Accessorize with silver or gold jewelry, depending on the shade of white pant and on the color of your blouse. Wear it with a nice pair of simple close-toed heels.
4
Wear a lacy white camisole with white jeans. The white camisole can be more cream-colored or off white and will will still look great with a pair of white jeans. Just put it all together by wearing an open button-down brown or black sweater that falls at mid-thigh. Pair this look with close-toed heels that are the same color as the sweater.
High-Waisted Trousers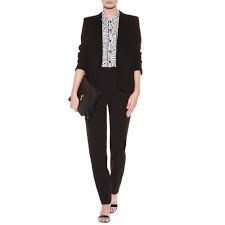 1
Pair a tailored button-down shirt with cotton twill white trousers. This will create a more professional yet elegant look. For a more formal look, the shirt should be a dark solid color — avoid pastels or shades of white for this look. Wear simple and unflashy accessories, such as a silver watch or bracelet.Match this outfit with a pair of modest closed-toe heels.
2
Pair a patterned, fitted blouse with high-waisted white jeans. This will create a more casual approach for your look. You can have more fun with this look by choosing a vibrant pattern for your blouse and tucking it into your jeans. Wear loud or chunky accessories and even think about wearing a cute scarf or beaded bracelets with this look.Rock this outfit with open-toed heels or sandals.
3
Pair a button-down denim top with high-waisted wide-leg linen trousers.You can tuck in a regular-length denim top or be bold and wear a high-cut top that ties near the belly button. You can rock this look with a pair of high-heeled brown platform sandals. A white belt and layered brown necklace will tie this outfit together.
4
Pair a loose shirt with white high-waisted cotton trousers. Take a solid-colored loose shirt with loose sleeves that fall just past the elbows and tuck it into a pair of 80s chic high-waisted cotton trousers. Dress up this look with a pair of black close-toed heels.
Capri Pants
1
Pair a form-fitting t-shirt with loose linen white capri pants. Choose a shirt in a bright color, such as coral or teal, or a pastel shade. This look will show off your upper body as well as part of your calves. Wear low-heeled sandals, flat sandals, or flats, and keep your accessories light.
2
Pair a free-flowing short-sleeved blouse with a pair of fitted white capri pants. Choose a blouse with a light floral pattern to give your style an added boost of femininity. Match this outfit with a low-heeled strappy sandal and simple jewelry, like a pendant necklace or silver bangles.
3
Pair a bright fitted tank top with loose white capri pants. This will make for a fun and beach-or-boardwalk-ready look. Wear pants that stop at the knee to flaunt your calves. This casual look works best with a simple pair of flat sandals.
4
Pair a black tube top with white capri jeans. Wear a form-fitting cotton black tube top with some black closed-toe shoes and you'll create a sexy and elegant look. Wear a short subtle silver necklace to draw more attention to your neckline.
5
Pair a black lacy tank top with fitted white capri pants. Wear a black lacy tank with strappy heels and you'll dress up your ordinary capri pants. You don't need to accessorize too much with a lacy top, though black studs can dress up your ears a bit.
So wear white right!
  -MISBAAH MANSURI
The following two tabs change content below.
Latest posts by Riya Lokhande (see all)