Here's presenting you the top 10 nail art designs you can try at home. But before we get there let's have a basic tutorial on Nail Art for beginners:
Clean off all old nail polish debris, to ensure you have a clean surface to work on.
Cut of rough edges and shape your nails, so that they look uniform. Don't cut them too short; nail art looks better on longer nails!
Apply a base coat of nail hardener or transparent nail polish that will ensure your nail art doesn't get chipped off soon.
Now you are ready to go and create amazing nail art!
1. If you are a beginner, a base coat followed by a DIY kit available in the market does well
.
2. Fluorescent or neon is in vogue:
So try all alternating your fingers with two different shades of neon colours, it looks great! You can also try the same type with bright colours, each finger with a different colour.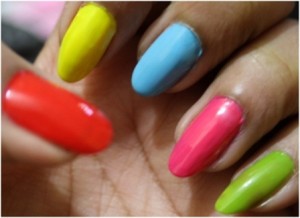 3. Floral prints:
You can try making neon or colourful floral prints on a base of white nail colour. Just use a small brush or toothpick to make dots of different colours, these dots can look like the petals of your flower. Now add a dot of common colour between each flower and your floral print is ready to go!
Looking for bling? Try the same design on a black nail colour base with flowers of golden, silver and copper.
4. Animal Prints are the in thing:
If your clothes can have animal prints, why can't your nails? Try a simple leopard print by adding dabs of brown across your nail and border it with black using a tiny brush. Fill up the remaining area with a mustard colour or a similar shade. A leopard's spots are never uniform so you don't need to get your blobs of brown in a symmetric manner.
5. Glitterati mood?
Try this amazing nail art, by painting 3 of your fingers and thumb with a bright colour like a fuchsia pink, blood red or a bright orange. Now what remains is one finger, preferably the ring finger (i.e 3rd from your right), add nail glitter to a silver nail polish and paint up the remaining finger. It's sexy and you know it!
You can do the same by keeping one finger plain and the rest with glitter or a half and half on each finger with glitter and bright colours, it's a win win combination for parties!
6. Diamond studded affair!
Now you are fond of those rocks that are every girl's best friend, why not have them on your nails to add some fun! Paint on your favourite colour and once it dries use nail glue to place tiny stones that look like diamonds. You will get them at any stationery or nail art store. Just make sure that you don't add a lot of stones and spoil the show.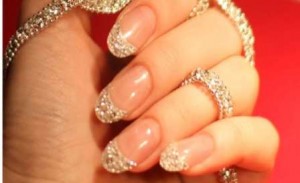 Polka dots:
An all time favourite for the girl next door look! Base coat followed by polka dots created using any toothpick or small brush. Make sure you have the right colour combination and it's a winner all right.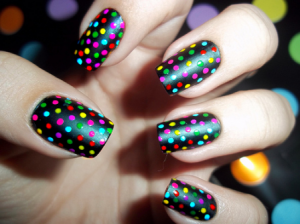 The Newspaper print:
Tired of the colours want something that's sober yet stands out? Try the newspaper print. Paint your nails white as the base coat, take something that has high alcohol content, and place your nails in that for about 10-15 seconds. Keep bits of newspaper cutting ready and once you remove your nails from the alcohol immediately place those cuttings on your nails and press hard for about 10-15 seconds. Peel off and see the amazing design.
Cartoon nail art:
Love cartoons then you can use basic designs like the angry birds and paint them on your nails, you need to be a skilled artist for this one but the entire effect is pretty cute. You also get ready made cartoon stickers that you can place on a base coat of colour or transparent nail polish and have the cartoon effect.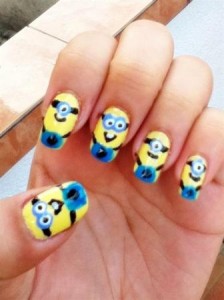 The French manicure:
This is a classic and looks very elegant, just a nail strip is required along with two nail colours that complement each other, place the sticker and paint your base, follow the same routine and paint your tip. Keep in mind that the basic concept of a French manicure is a different coloured tip preferably with squared edges to long nails. White tips with nude nails are always in fashion, rest of the colour experiments I leave up to you!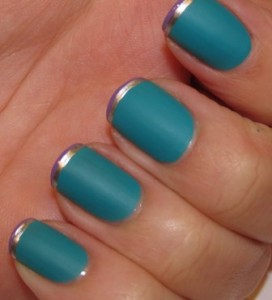 You can use the same ideas for toe nail art too! Don't forget to add a coat of transparent nail polish after you are done to make your art stay longer.
The following two tabs change content below.
'Ever Learning, Ever Evolving, Never Giving up' sums up www.bms.co.in's Content Manager and passionate writer, Ami. She is a BMS graduate who has freelanced in the past with the top Indian newspapers and magazines. Apart from writing she also likes to indulge into travelling, photography and social work.
Latest posts by Ami Pandya (see all)