Dhanteras / Dhanteras Puja / Dhantrayodashi / Dhanvantari Jayanti / Dhanawantari Jayanti is celebrated on 21st October 2014, Tuesday and it is a very significant festival. Dhanteras Puja's best time is during Pradosh Kaal when Sthir lagna begins(Sthir means not moveable). We wish you a Happy and Prosperous Dhantrayodashi / Dhanteras.
Don't miss to check:
Latest SMS, Wallpapers : Happy Diwali / Divali / Deepavali / Dhanteras / Bhai Dooj / Kali Puja / Bandi Chhor Divas 2014
Here we present Happy Dhanteras SMS, Messages, Quotes, Wishes, Greetings, Wordings in Hindi 2014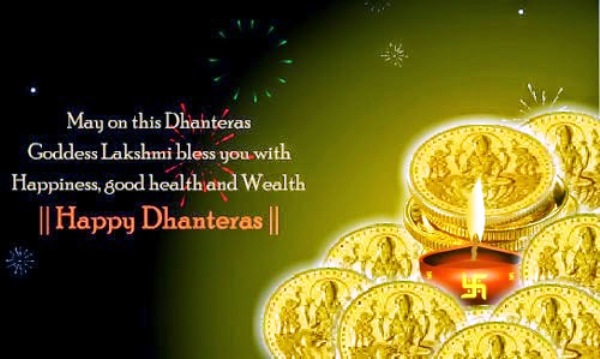 1) Dino-din badhta jaaye aapka kaarobaar,
Parivaar mein bana rahe sneh or pyaar,
Hoti rahe sada apaar dhan ki bauchaar
Aisa ho aapka Dhanatrayodashi ka tyohaar
DHANATRAYODASHI KI HARDIK SHUBHKAAMNAYEIN
2) Dhanteras ka ye Pyara Tyohaar,
Aapke Jeewan mein laye Khushiya Apaar,
Mata Lakshmi padhaare aapke ghar dwaar,
Shubhkamna Humari aap kare sweekaar
Happy Dhanteras
3) Iss Dhanvantari Trayodashi pr kuch khas ho,
Dilon mein khushiyan or Ghar mein sukh ka vaas ho,
Heere or Motiyon se saja aapka taaj ho,
Mitey dooriya or sab aapke aas paas ho,
Aisa dhanteras ka aapka tyohaar ho.
4) Dino-din badhta jaaye aapka kaarobaar,
Parivaar mein bana rahe sneh or pyaar,
Hoti rahe sada apaar dhan ki bauchaar
Aisa ho aapka Dhanatrayodashi ka tyohaar
DHANATRAYODASHI KI HARDIK SHUBHKAAMNAYEIN
5) DHANTERAS ka shubh din aaya,
Sabke liye nayi khushiyan laaya.
Kuber Ji or Lakshmi Ji padhaare aapke ghar mein,
Sada rahe Sukho ki Chhaya
HAPPY DHANATRAYODASHI
Related Stories: