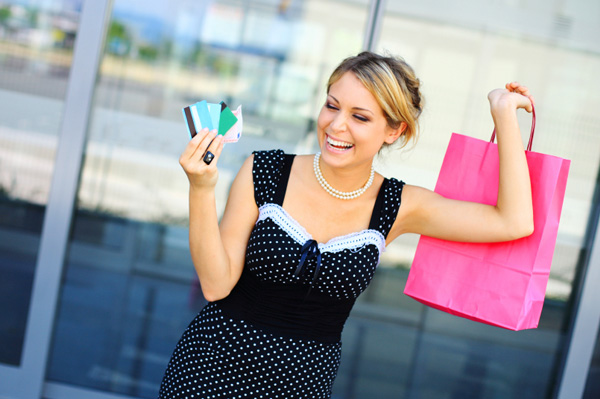 Shopping is one thing women love. Most men hate shopping. Some men get bored while some get fed up roaming in all possible shops for hours and hours with their wife or girlfriend. A few guys like shopping they are ones that love dressing up and buying different dresses. While others have no option but help their sisters shop and that's how guys know how and what to shop for their girlfriends and sisters always train them:-p there are people who love shopping and there are people who don't. The people who love shopping often are the ones who love spending. They don't intend to spend a lot but end up spending. That's probably one thing shopping makes you do spend a lot.
Shopping is always in the mind of the shopaholic. There is a gymaholic, workaholic, alcoholic and then there is always a shopaholic. You always have that one friend who is a shopaholic. A shopaholic is a person who loves to shop no matter what. Shop all day all night every time and whenever they get free. They are people who have such a lot of clothes, gadgets and other stuff and yet still keep wanting more and more. They desire to shop more of everything that they love. People are obsessed with shopping. Especially a lot of women they only shop. Women shop a lot of shoes, clothes, accessories, make up, so on and so forth. Whereas men who love shopping they usually buy a lot of clothes, watches, perfumes and deos and a lot of gadgets. Electronic stuff is what guys love buying.
Marketers know how to market a product and how to influence consumers to buy more and more stuff. People usually go to shop with a mind-set that they would buy a certain product or a list of few things. But when they go for shopping they end up buying whatever they have thought of buying as well as other stuff that wasn't even on their priority list. Offers and discounts are something that shoppers love. Especially women love discounts and offers. These discounts and offers may them buy more than what they were supposed to. These are the kind of tactics that are called sales and promotional tools that usually companies follow.
A shopaholic is one heck of a crazy person that is always hunting for something new and appealing to the eyes. Sometimes price is not much of a concern to the shopaholic. They like something they have money they buy. Without even thinking twice they buy certain stuff and no matter what they will go and fill their wardrobes with clothes and shoes and accessories. There are times when a shopaholic doesn't have money but desires to buy certain stuff while checking his or her pocket he realises that they do not have enough money and they end up paying in advance as they are keen to buy it and the limited stock that has just come up they want to have it.
By hook or crook they will buy the things they want they may come the next day too and shop for that one thing that they wanted to buy. While there are some people who just know what exactly they want to shop they enter the shop check just what they want buy it and leave. While a shopaholic would go running round the whole mall and keep buying all the stuff that they want till their pockets don't get empty. A shopaholic will never find anything expensive as long as it looks good they will buy it.
There are people who shop and keep shopping all the time and till the end of the month they are all broke. Those of them who keep saying that they will pay off the shopping bills later are the ones who use their credit card. Shop now and pay later. They shop and make the credit card payment and think they will pay it off from their account the next month. In this next month is like that vicious circle that has no end and you keep shopping and paying later and one fine day you realise you have to pay a bomb. That when you burst out crying.
In such a case you end up realising that you have brought such a lot of clothes, shoes and dressed that were not even worth it, and you could probably open up a boutique out of your whole wardrobe. Shopping is good but buying too much of something and being too obsessed with something is a bad thing. It may back fire. Too much of anything is bad in the similar manner too much of shopping is bad for your health and your bank balance. Shopaholic's make themselves slaves of objects and stuff and they automatically get attracted to the things they see. Thus marketers take advantage and they show customer a certain object and try to get their attraction and attention towards that object. The person who is just looking around becomes their potential customer and on the purchase of the product he or she then becomes a consumer.
When you know you are a shopaholic you certainly know how it feels to shop and that feeling of shopping. It is that feeling where you yourself get so attracted to certain, clothes, shoes and brands that you don't know what to do. You can hear out the product actually calling you. You also start dreaming of wearing a particular dress and how gorgeous you really look and feel. You get all the more eager to buy it and want to wear it. That's what makes you buy a certain dress or an outfit. Even if you stop yourself from buying it you keep dreaming more and more about it and want it more and more. This is what makes you go crazy. Finally you go back to the same shop and buy the outfit you have been dreaming of and god forbid if you do not get it it's out of stock you end up sulking.
BY Carren bryne.
The following two tabs change content below.
We, at BMS.co.in, believe in sharing knowledge and giving quality information to our BMS students. We are here to provide and update you with every details required by you BMSites! If you want to join us, please mail to contact@bms.co.in.