Mumbai-A huge metropolitan with it's diversified culture and its variety of food wherein Mumbai's cultural diversity is reflected. We bring to you, Mumbai's top famous and favorite appetizing savories that you can enjoy anytime and everywhere.
1) Akuri on Toast
Are you heading for office with an empty stomach? If yes then grab some Akuri on Toast for breakfast. Just one plate of this delightful dish will cure your hunger pangs, thereby shredding the grumpy look on your face caused by the hungriness.
Akuri is a famous Parsi dish prepared usually for breakfast made out of scrambled eggs, onions, tomatoes, red chilli powder, green chillies, coriander, milk, cumin powder, curry leaves, ginger,garlic paste and sometimes even raw mangoes. So make your breakfast much more filling and healthy with Akuri.
Where: Try the Akuri at Jimmy Box,11 Bank Street,Vikas Building,Off Horniman Circle, Fort.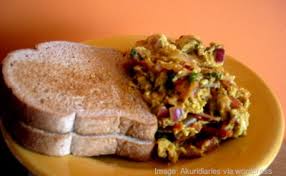 2) Batata Vada (Vada Pav)
 Breakfast, tea time or anytime, Batata Vada, commonly known as 'Vada Pav' is a favourite snack for every Mumbaikar. You can have this either with green chutney or fried green chillies. Made by mashed boiled potatoes with garlic, lime juice, turmeric, green chillies, dipped in gram flour and fried, this makes up as a fast food on the go. When you have no time to enter a restaurant, waiting for your 'biryani', Vada Pav will surely save the day for you. Also it is available at pocket-friendly rates.
Where: Shrikrishna, near Chibaldas High School, Dadar Market.
3) Bhelpuri
 It is one of the most commonly sold chaats in Mumbai with a hardcore fan-following.You will always find a bhelpuri vendor flocked by people around him. It is made out of puffed rice, tomatoes, potatoes, coriander, raw mangoes, green chutney and a little lemon is squeezed. You will find a bhelpuri wala in every nook and corner of Mumbai, including the Juhu Beach or the Girgaum Chowpatty. Also try its pani puri or sev puri. Make sure you don't forget to follow the common ritual to ask for a free 'sukha puri' or a slice of boiled masala potato at the end.
Where: Juhu Beach, Girgaum Chowpatty or any other streets of Mumbai.
4) Kanda Poha
    A must have Maharashtrian dish made out of onions, potatoes, tomatoes, flaked rice, green chillies, coriander and squeezed lime. This makes a healthy snack for you. Kanda Poha with a boiling hot cup of tea would make you an ideal breakfast or a quick brunch.
Where: Aswad, L.J.Road, Opposite Shiv Sena Bhavan, Dadar (west).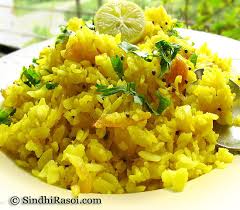 5) Frankie
Be it teenagers, adults or oldies, the Tibbs Frankie has always been an irresistible savoury. Ordering one will barely take 10 minutes. After a tiring shopping spree, this is the snack that you can relish on. With a huge versatility, this snack is on the go for everyone, be it vegetarian cheese Frankie, schezwan Frankie, paneer Frankie, and the list goes on. It is also available non-vegetarian toppings such as the egg mayo Frankie or anything including chicken. Galvanized by the Lebanese pita bread wrap, with a typical Indian touch, Frankie is the most culled food in Mumbai.
Where: The Tibbs Frankie outlet is available all over the city.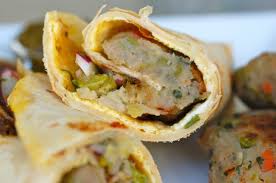 Reading on to this you would have surely burped a few times. Beating your hunger pangs is now easy and affordable.
– Urvashi Shah
The following two tabs change content below.
BMS Team aims to help the BMS students all over Mumbai colleges, empower BMSites and revolutionize management education. If you wish to be a part of our core team, write to
[email protected]