Hello guys 🙂
Well I m super excited to start with today's article,King Khan being my favorite  actor, A hard-core believer in "TRUE LOVE",  I have grown up watching his movies and no doubt DDLJ is my favorite move as well.. 🙂
Well so the news "DDLJ COMPLETES 1000 WEEKS of its release"… hmm ya this is a big deal, this is the reason to celebrate love, a movie that is so iconic, during 90's when every girls used to can't get over charisma of poppy Raj (I am still one of them) – and ever beautiful and an epitome of being a perfect Indian daughter-Simran, ya we can't forget this  two names of lovey-dovey birds,created a benchmark in Bollywood industry, infact all over the world.People still feel glad to watch this movie in Maratha Mandir theatre
This movie has redefined "true love". DDLJ is worth watching every-time we watch the movie, we flow with emotions ,as the movie flows, It has lot of feel "good factor", we instantly get the positive vibes,well this will be understood by the true lovers out there 😉 . I simply cherish this movie.It is So heart-warming and we still hum the songs of this movie,don't we?…and I just cant stop myself writing about it….
This movie is history now, but yet it is so alive in everyone's heart, this is the charm of the movie 🙂
Need I describe more now? 😉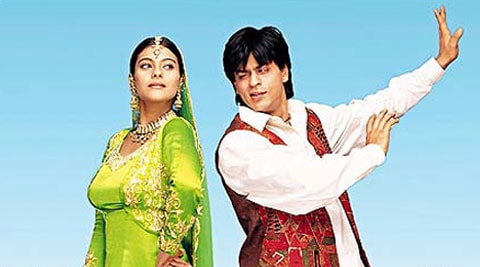 In the below link ,You will get to here all the songs of the movie at one go, so just spare your time and watch this movie,if not possible listen to its songs, It will simply relive u, TRUST ME!! 🙂
In the era where true love is rare,where long distance does not work, where relationship has lost its value and its more of "fling-thing" now,where true relations are disapproved by society,this movie is a perfect dose, "to fall in love all over again" .. 🙂
I am celebrating 1000th week of DDLJ by watching this movie all over again, what about you?