Alligators left behind at Airports and Men calling citizens poor just because they use public transport, bizarre events from across the globe just don't stop.
Our first Mad story for today comes from Chicago, where Authorities have arrested a woman they believe left a small alligator at Chicago's O'Hare International Airport late last year.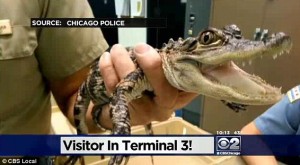 In a news release, Chicago police said 29-year-old Alexis Prokopchuk of suburban Oakbrook Terrace was charged with misdemeanor counts of reckless conduct and cruelty to animals. She was arrested Tuesday.
The 2-foot-long alligator was spotted and captured in a baggage claim area on Nov. 1 of last year.
Police recovered security footage that showed a woman with an alligator under her arm boarding a Chicago Transit Authority train, then chatting on a cellphone while the animal sat in her hand on her knee. An hour later, she disembarked at the airport.
Prokopchuk could not be reached for comment Wednesday. A phone listing for a Prokopchuk in Oakbrook Terrace has been disconnected.
If that was weird read our second story; A Porsche-driving British wealth manager in Singapore who referred to public transport commuters as "poor people" has apologized after his Facebook posts sparked an online furor.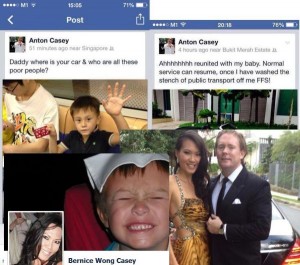 Anton Casey, a 39-year-old who is married to a former Singapore beauty queen, had also referred to washing "the stench of public transport off me" in one of his posts on the social network.
Furious internet users lashed out at Casey, a Singapore permanent resident, with many subjecting him and his family to verbal abuse.
Singapore has one of the world's highest per capita incomes, with official data showing it stood at Sg$65,048 ($50,890) in 2012. The city-state also boasts one of Asia's most modern public transport systems, with its 150km (93-mile) metro network carrying about two million people daily.
"I would like to extend a sincere apology to the people of Singapore … for my poor judgment," Casey said in a statement late Tuesday.
"I have the highest respect and regard for Singapore and the good people of Singapore; this is my home," he said.
It's a Mad, Mad world alright!
For more Madness you can visit:
Weird, bizarre and completely strange news, from across the world: http://bit.ly/1aiZLc2
News that's so bizarre that it will make you go ROFL in seconds!: http://bit.ly/Kws1Mn
Hopelessly Bizzare: App's to help you quit jobs and have trouble free breakups: http://bit.ly/1aK0f5A
The following two tabs change content below.
'Ever Learning, Ever Evolving, Never Giving up' sums up www.bms.co.in's Content Manager and passionate writer, Ami. She is a BMS graduate who has freelanced in the past with the top Indian newspapers and magazines. Apart from writing she also likes to indulge into travelling, photography and social work.
Latest posts by Ami Pandya (see all)