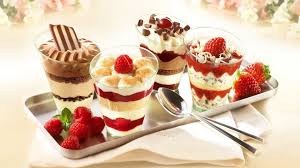 A scrumptious pudding is the perfect way to finish a family meal.  They are a blend of milk and sugar along with some binding agent like gelatin or cornstarch which gives it an additional flavour. These days puddings are available ready made in the shops but nothing like homemade. So here we have collected few recipes just for your collection.
Caramel Apple Pudding
This caramel apple pudding dessert offers layers of creamy cream cheese, butterscotch pudding and whipped topping all topped with crunchy sweet and sour apples, peanuts and toffee bits and if that wasn't enough the whole thing is drizzled with caramel.
Ingredients:
2 cups crushed graham cracker crumbs
1 cup granulated sugar
1 teaspoon ground cinnamon
1/3 cup butter, melted
1 (8 ounce) cream cheese, softened
Half litre milk
1 cup whipped topping
2 (3.4 ounce) instant butterscotch pudding mix
1/4 cup caramel ice cream topping
1/4 cup toffee bits
3 cups whipped topping
For garnishing:
1 medium Red Delicious apple, chopped
1 medium Granny Smith apple, chopped
1/3 cup dry roasted peanuts, chopped
1/4 cup toffee bits
1/4 cup caramel ice cream topping
Preparation
In a small bowl, mix together the graham cracker crumbs, sugar and cinnamon.
Pour melted butter over cracker mixture, stir to combine.
Pour into a 9×13-inch baking dish sprayed with non stick cooking spray.
Press onto the bottom of the baking dish.
Place in refrigerator while making the first layer.
In a medium bowl beat the cream cheese, caster sugar and milk until smooth.
Fold in whipped topping; spread over crust.
Place back in the refrigerator while making the second layer.
In a large bowl, whisk the milk and pudding for 2 minutes; let stand for 2 minutes or until soft-set.
Stir in the caramel topping and toffee bits.
Pour over the cream cheese layer; spread evenly.
Spoon whipped topping onto the pudding layer; spread evenly.
Cover and refrigerate for at least 4 hours or until filling is firm.
Just before serving, top with apples; sprinkle on the peanuts and toffee bits.
Drizzle on the caramel topping.
Fruit Cocktail Pudding
A baked fruit salad pudding combines the comforting richness of a wintery oven-baked pudding with the fresh flavours of fruit salad.
Ingredients
1 cup flour
2 tablespoon sifted
1 cup sugar
1 tsp baking powder
1 tsp baking soda
¼ tsp salt
½ stick butter, melted and cooled
½ tsp vanilla
1 egg, beaten well
1 medium can of fruit cocktail
1 cup brown sugar
For Garnishing:
¾ cup sweetened shredded coconut
Chopped fruits
Whipped cream and icing
Preparation
Preheat oven to 350 degrees
Grease an 8 x 8 baking dish.
Sift first six ingredients into a medium bowl.
In a small bowl mix the cooled melted butter, the beaten egg and the vanilla.
Pour the egg mixture into the bowl of dry ingredients and pour the entire contents of the can of fruit cocktail, juice and all.
Mix with a wooden spoon until completely combined and the fruit cocktail is even distributed.
In a small bowl mix the brown sugar and the shredded coconut. If you would like to add nuts to your topping you can also add 1 cup of chopped nuts.
Mix the brown sugar and coconut together. Sprinkle evenly over the top of the batter.
Coffee Pudding
Ingredients
1/2 cup granulated sugar
3 tablespoons cornstarch
3 tablespoons instant espresso powder
1/8 teaspoon fine salt
1 1/2 cups whole milk
1/2 cup heavy cream
2 large egg yolks
2 tablespoons unsalted butter
1/2 teaspoon pure vanilla extract
Preparation
Place a fine-mesh sieve over a medium heatproof bowl and set aside. In a medium saucepan, combine sugar, cornstarch, instant espresso powder, and salt. In a medium bowl, whisk together milk, cream, and egg yolks; add to saucepan.
Whisking constantly, cook over medium-high until mixture thickens and is bubbling, 8 to 12 minutes. Reduce heat to medium-low and cook, whisking, 1 minute.
Remove pan from heat and pour mixture through sieve into bowl. Stir in butter and vanilla until combined.
Press plastic wrap directly against surface of pudding to prevent skin from forming and refrigerate 3 hours (or up to 3 days). To serve, whisk until smooth and divide among four small bowls.
-TANVI SHAH
The following two tabs change content below.
Latest posts by Smita Singh (see all)