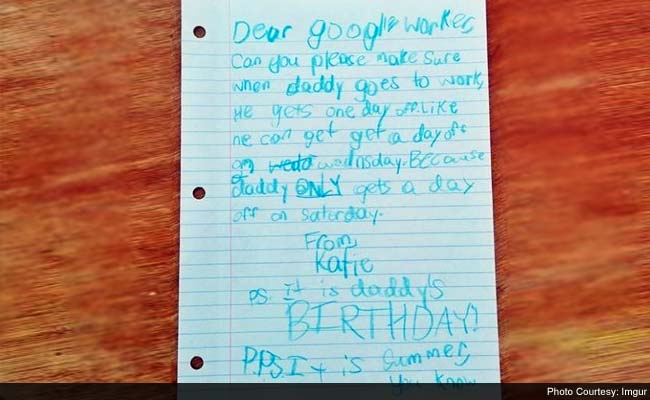 What if you come across a letter which is written by a daughter to Google saying that her father must get a holiday because it's his birthday? Here it is. Browsing across the internet, I found this cute little thing which made me write this and share it with everyone I know.
A little girl named Katie wrote a letter to Google to get her father who is a designer at Google, an extra day off. She stated that he only gets a Saturday off every week; she explained that it was her father's birthday and also summer time.
Here is what the letter says:
Dear Google Workers,
Can you please make sure when daddy gets to work, he gets one day off. Like he can get a day off on Wednesday. Because daddy ONLY gets a day off on Saturday.
From Katie.
PS. It is daddy's BIRTHDAY!
PPS. It is summer, you know
Now, this is a heart melting story, Isn't It?
Wait, it's not over. This is what happened next!
This is one of the best instances where Google makes itself a favorite for all the netizens all around the world!
–         By Anand Thakkar
The following two tabs change content below.
BMS Team aims to help the BMS students all over Mumbai colleges, empower BMSites and revolutionize management education. If you wish to be a part of our core team, write to
[email protected]