While you travel abroad, you need to do a lot of homework n getting the details on the visa required and their related procedures. Understanding their terms & conditions, maximum duration allowed etc will kill your patience.
But, there are some destinations where you hold an advantage of being an Indian citizen and travelling to country where the visa is not required. Holders of Indian passports have visa-free and visa-on-arrival access to about 52 countries and territories around the world.
At least 28 of these nations allow Indian passport holders to visit without a pre-issued visaWhere visa-free access is permitted, such access is not necessarily a right, and admission may technically be at the discretion of border enforcement officers. Visitors engaging in activities other than tourism, including unpaid work, may require a visa or work permit.
These are some countries where you can go to without applying for the whole VISA thingy.
Jamaica
The land of Bob Marley & an amazing one at that! This place takes the word 'touristy' way too seriously. Like so much so that it's borderline gaudy. Yet it is quiet something!  And it's an island. Jamaica is the most populous of the English-speaking Caribbean countries and its easygoing culture, cuisine and music, besides its many beaches, are attractive to tourists. Indian tourists can stay without a visa on producing a passport valid for six months and sufficient proof of funds and onward travel.
Costa Rica
Another easy come, easy go travel destination in Central America. Go on canopy tours, coffee tasting tours, surfing, volcano watching & get lost in the long nature walks. The countless waterfalls in this country only add up to the charm. Visa not required for a stay of 30 days.
Mauritius
This little postcard in the Indian Ocean is hardly off anyone's radar in India, and although pimped as a honeymooning paradise, it packs enough within its coastlines for all kinds of holiday makers.  Whether to experiment with your adventurous side take your photographic lens on a spin or to indulge in the unique French-Indian culture and cuisine of the island, Mauritius has no dearth of excuses to visit. Indian passport holders are granted visa on arrival in Mauritius for up to 60 days.
Cook Islands
The Cook Islands lie in Polynesia, off the coast of New Zealand. Visitors are required to show evidence of sufficient funds to cover their stay in Cook Islands and hold travel documents, including visas and confirmed flight tickets, required for their return or next destination. Indian citizens are allowed to stay upto 200 days without visa.
The Seychelles
This archipelago of 115 islands in Indian Ocean really gets me. It looks so blissful & at peace. Nature has been unsparingly kind on The Seychelles. Enjoy the water adventure sports, or just trail around in the beaches doing but getting lost in the beauty n tranquillity of the place. Tourists are issued a visa on arrival for a maximum of 15 days provided you have a passport that is valid for at least 6 months from the date of arrival with the proof of return ticket.
Bhutan
Bhutan, the happiest little nation in the world, is among the most sought-after Himalayan destinations for tourists but the Himalayan mountain kingdom is very conservative when it comes to tourism. The Land of the Thunder Dragon can be approached over land via Siliguri, or by a flight on Druk Air to Paro's international airport. Indian passport holders don't need a visa to enter Phuentsholing, a Bhutanese town on the Indian border. To travel further in Bhutan, a travel permit can be obtained here or in Thimpu.
Antartica
Isolated and inaccessible as it may seem, Antarctica is owned by no one country and has almost no human habitation, making visas inapplicable. You do however need a permit to enter, visas for destinations enroute that you stop at, and a handsome budget. Many of us will only visit Antarctica virtually, gawking at the glistening white landscapes in pictures, and reading stories of human adventures in the greatest wilderness of the entire planet.
Macau
When you are going to Hong Kong, you might as well visit Macau. Getting to Macau from Hong Kong is really easy. The helicopters offer a really speedy service. Also, it might be wonderful to get on one of these shuttles. Super famous for Las Vegas style casinos & gambling, the place still relishes its Old Portuguese culture.  No Visa required for a stay up to 30 days.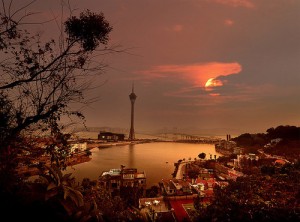 Madagascar
Madagascar has been geographically isolated from the rest of the world for so long, that 90% of its flora and fauna, and many of its animal species are found nowhere else in the world. Indians can obtain a thirty-day visa free of charge at the Antananarivo airport, Madagascar's primary international airport.
10. Hong Kong
Hong Kong is a world within a world!  Beneath the crowded streets, blasting neon lights of the city lay a few blissful delights. The dim sums & jasmine tea served on the streets can give restaurants like Mainland China run for their monie. Cathay Pacific runs frequent direct flights to Hong Kong. A fourteen-day entry stamp is free of charge at Hong Kong airport.
 -Tanvi Shah