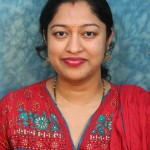 Name – Mrs. Savina Shenoy
College – St. Andrews College, Bandra ( West)
Tell us something about yourself
I am a happy go lucky girl, who likes to enjoy every moment of life. I have done my M.Com, Diploma in HR from Welingkars, Diploma in Mass Media, specialized in PR, pursuing trainers Course from ISTD, New Delhi and MBA from IGNOU. I do change my choices frequently and also my professions; I do not have a fixed mindset to achieve goals. My goals vary as per my mood. I started my job with airlines then switched to HR and then to teaching. For me, learning new things daily by observing is passion.
I work with St. Andrew College, Bandra as an Assistant Professor. I am also a visiting faculty in other colleges like Sathaye, SNDT(Juhu), & Vivek College. Was a visiting faculty in Dahanukar, Clara's, Sydenham, Bhavans College(Chowpatty), ADMIS (Kalina Univ. premises) etc.
I enjoy making friends but those friends should be honest, smart and helpful. I understand that work/life balance is different for everyone. There is no one formula. You have to figure out what works for you and see what you can do to make it happen. For me, Work is Worship and there are times when I work on weekends too. For me sleep is the biggest stress buster and I try and get seven to eight hours of it. I frequently listen to music and occasionally watch movies.
I believe that a work/life balance contributes greatly to success. I believe that although work is important, it is essential to find a balance between work and personal life. "Everyone was born to be happy. We have everything we need to be happy, no matter what you do or who you are."  I believe that our lives, in and out of the work place, need to be connected. We need to integrate our abilities, whether from the work place or personal, get out there and give something back.
I have a five-point plan: Plan my work well, Share experiences, Develop good communication skills, Think positively, And always keep smiling. I believe life itself is a stage and the best role we play is ourselves. Our characters develop as the stage changes and we are constantly challenged to remain true to ourselves. Freedom to me is the ability to make the choices, I would like to make. But it also comes with responsibility.
I always like to implement the below 2 sayings of Shiv Khera, which are:
Refuse to run away from the things that scare you. Confront these situations and overcome your fears so that you may grow as a person.
Don't Compare yourself to others. You are unique special being and therefore you should express your individuality.
Tell us something about your college
St Andrews College is a College of Arts, Science and Commerce, situated at Bandra (West). Lovely College with excellent premises, lovely students and great faculties. Encourages all faculties to build their competencies and to pursue for Research Studies. Its objectives are to Recognize and encourage excellence in academics, cultural and sports activities for students. Also helps in cultivatating leadership qualities in teachers and students. Provides opportunities for team building, setting and achieving targets, Impart quality education by providing an environment conducive to teaching and learning etc.
They organize intercollegiate competitions like Olio, AWMTC, Gospel Rock, Jhankaar and XYZ, which gives an excellent platform to students to prove their capabilities and competencies. Also conducts Value Education lectures for all FY's and Leadership lectures for all SY's and TY's, which enhances and motivates students, to perform better in every aspect of life.
Excellent Infrastuctural facilities provided to students like Conference Rooms, Laboratories, Gymkhana, Auditorium, Canteen, Training & Placement Cells, Excellent library with store of good books, Chapel and Common Rooms etc.
Overall a lovely college to be associated with.
When did you join the teaching profession? What inspired you to choose this line?
I joined teaching profession 3 yrs back. It was just by chance that one of the administrator of Dahanukar College Mr.Utpal Samant asked me if I can teach Turnaround Management to TYBBI students and I said ok…let me try…If I am not happy with my teaching or If I feel that I cannot be a good teacher then I will not teach…but when I started teaching I felt that teaching profession is great wherein you can interact with students, and provide them with information of current updates linked to the syllabus and started enjoying teaching. I can say students' love and enthusiasm inspired me to go into teaching. Then I started to work as visiting faculty in many colleges and then as a co-ordinator (BMS) in Vivek College of Commerce. Now I am associated with St. Andrews College, Bandra (West).  I enjoy teaching.
Which subjects do you teach? What do you love most?
I Teach HRM, FHS, Strategic Management, POM, Communications, Entrepreneurship Mgt, PQM, PRM, Marketing Management & Service Sector Management. I love teaching HRM and FHS the most ……I feel they are just amazing subjects to teach….
What is your teaching philosophy?
I teach my students in a different way. I expect that my students will have a variety levels of desire for learning and hence, my teaching method is a combination of videos and clippings, movies, classroom lectures, discussions and powerpoint presentations, wherein I feel that with all these combinations the monotony in teaching would be reduced and hence, students concentration level will also be increased to a great extent. E.g While teaching Strategic Mangement, my first day of teaching consists of showing students a movie. I showed them 'Corporate' and then from that movie, various aspects like poaching, competitors, various strategies, role of strategists, spying, unethical business is being taught to them as they understand the concept very well after watching the movie.
I strive to nurture an environment that will encourage them to seek areas that excite them, for I believe that true learning occurs best when it is most meaningful. I expect my students to understand and utilize their rights for quality education, and to fulfill their responsibilities to themselves. Also I want them to read newspaper on daily basis which never happens 🙂
My ultimate goal in teaching is to provide requisite knowledge, encourage and develop critical thinking skills, and stimulate natural curiosity that will guide students in their efforts of pursuing success. By accomplishing this, I will satisfy the need within myself to somehow make a difference.
Do you believe in teaching should be full of ideas rather than stuffed with facts?
I believe that teaching should be a combination of both – Ideas and facts with appropriate examples wherever necessary as both are necessary for a student to know and understand the concepts in real sense in order to achieve their goals and objectives in future.
Can a student from Arts/science background also do BMS
Yes definitely. As per University rules a student from Arts/Science background can join BMS.
As a BMS faculty, what kind of projects do you expect bms students to work upon?
I think a little different in this perspective. I don't go on the topics which are commonly done by students or given by other faculties. I have seen that majority of students are normally interested in cut, copy and paste projects as they want to achieve goals by adopting shortcuts. They don't learn anything from this.
I would like students to practically have a strong observation power and work on the aspects which they see in daily life. It can be on any industry, patients in hospitals, passengers, life, business but the projects should be based on real facts and figures where in they need to do a lot of Research work and should have that curiosity to get information from personnel of organization or industry by negotiation & excellent communication and PR skills. E.g Students always see hawkers, artists making Ganesha or Devi idols, on roads, go to malls, etc. But they never think of learning things by going to them personally and talking and enquiring as to how idols are made, ingredients, profits etc. Students never think of doing project based on these topics.
I want them to take initiative and learn every possible aspect and topic, which they don't know, by doing research. It can also be topics not related to management because students don't know where this extra knowledge will take them to. The topics can be anything from finance to financial markets to banking and Insurance to IT to animations to languages to IPS, IAS, Agriculture or farming etc. Whatever they observe and read in daily newspapers, they should know it to the extent of 100% and I know that this will definitely lead them to climb the ladder of Success. They should try to find opportunity in every situation. And I bet people will salute their knowledge and intelligence in future.
Do you think a BMS Student should participate in College fests and Industrial Visits? Why?
Yes by all means BMS students should participate. This helps them to increase their contacts as they can build rapport with students of other colleges, maintain good PR skills, excellent Communication skills and build their overall personality by increasing confidence by performing infront of audience and competing and facing challenges with other competitors but they should not only and only participate in those activities and neglect studies. There should be a proper balance created in studies and participation in inter and intra collegiate activities.
People say BMS is 70 % of first year MBA. After BMS, is work experience important for MBA?
Yes it is.
It depends on student's potentialities, capabilties and their likings. Every student is different and their understanding level is different. Hence, Work Experience is required and is important as it gives practical information and better understanding to learn things in professional and systematical manner to students. But one thing they need to remember that they should pursue their higher studies even if the salary is more after employment. Normally it is seen that students discontinue their studies once they are employed, so that should not happen.
There is a shortage of eminent professors at bachelors' level management. With more and more institutes joining the professional courses bandwagon, do you think BMS will become yet another Bcom?
It is because of University rules and regulations, I think that it has started becoming yet another Bcom, as from this year even Bcom students have internal and external pattern as that of BMS students and Today after teaching in several colleges I can confidently say that the output of students sent to industry is very bad because of the changed rules and regulations for examinations by University especially for FY and SYBMS, where students don't take exams seriously due to opportunity given to them of clearing exams in 2 more attempts after final semester examination and elimination  of entrance exam for BMS students during admission which was earlier existing when the course was newly started. Also the criterion for getting admission in BMS is very easy. It is just 45%. Also University has changed the paper pattern of FYBms from this Semester where students are getting more options in question paper and has started with graded system of marking.
What should BMS education mean to a student?
It should be taken very seriously but no seriousness involved in it. It just means a degree to them.
Do you think the course curriculum is at par with industry expectations?
Theory wise to the extent of 60% not 100%. Learning Theory aspects in class and implementing in practical way is a huge difference. Hence, I feel that industry need to provide rigorous training over and above normal training to students  as students just read and mug up the concepts for exams and forget it.
Today, we often come across students committing suicide out of failure, depression or tension of exams. What do you have to say about this?
It is very unfortunate but true that today's generation's thinking is totally different due to the changed lifestyle and the facilities provided by parents as well as Education System. They don't want to work hard and also don't take exams seriously and inspite of that they expect to get through the exams by just getting passing marks, and hence if their expectations are not materialized they can't cope up with the pressure put by the family members and Educational System and think of ending up their life by punishing themselves. They need good counseling from counselors, teachers and parents.
Who in your life has most influenced you?   
My family and my style of lateral thinking sometimes because I am a person who feels that there are many ups and downs in life but one should continue struggle and take efforts to face the challenges and learn something new which I don't know about, which is very much required to be successful in life.            
What are your professional/career goals?
I am a person who does not have a fixed mindset. I started working in a bank as an apprentice before graduation then joined airlines after completing my graduation. Worked for 2.5 yrs there, joined MNC into HR, from there skipped to teaching and from past three years I am into teaching field. If I loose interest in this profession then, I would like to learn animation and learn some foreign languages and start a business on my own and become a Women Entrepreneur. Nothing fixed as yet. But hope for the best.
Do alumni come back and tell you about life after bms? 
Yes Sure. College calls alumni students and they come back and meet once in a year in their respective colleges and share their feelings, ideas and emotions, professional life with their friends and colleagues and feel good about it during alumni meet. They come and perform in front of the audience, let it be singing or dance or mimicry or sharing jokes.
A famous quote says "A good teacher is like a candle – it consumes itself to light the way for others". What would you like to say on this?
Yes, that's really a true saying. A teacher should be very fair and just to students and should always give moral support related to exams, curricular activities, continuous encouragement in whatever field they choose, continuous guidance whenever they require as they are the one, who can make or break the career of students. They should counsel them whenever they need faculties' counseling and always be nice to them. 🙂
Who would you call as the best student so far in your memory?
It was Aarti Pandey from my 1st batch of TYBMS in Vivek College, who was very smart, helpful and first ranker too. Then Sanskar Jain, Virendra Surwade,Rohini Nair, Sana, Rohan everyone from that batch, very co-operative and lovely to be with. That batch was the best batch. I cannot forget that batch.
One touching incident that happened with you in your teaching career?
When my 2nd Batch of TYBMS ( Anuchitra, Jisna, Steffy and Group) laminated a big photograph of their batch with me in Industrial visit and had given it to me on the last day of their farewell and sharing their moments and experiences in the class was really touching and very  nice moment, I can never forget.
What suggestions would you like to give to Mumbai University for amendments in the BMS course?
Students career, efficiency and productivity is in Mumbai University's hands, so please don't give so many chances and opportunities to students to pass in the semester end exams, as it really removes the seriousness of the examinations for the course. Students need to work hard at any cost and try to learn advanced techniques on their own. Just spoon-feeding teaching will not help them. Their mentality needs to be changed and that can be done only by changing those current new rules. Try to keep an entrance exam during admission and increase the intake percentage to 50% atleast to get a good input in colleges and teachers can make them excellent and send productive and efficient output to industries and for the country as a whole.
 What message would you like to give to the bms students?
Work hard and please take exams seriously and try to clear in the first attempt with flying colours even if University has given you ample of opportunities to give exam n no. of times. Do enjoy and have fun with friends, participate in all the intercollegiate events wherever and whenever possible and gain confidence and develop your personality. Please take initiative to climb the ladder of success. Teachers will always guide and support you. Focus on studies, which will really help you to be successful. Have faith and trust on yourself stating that 'You are the Best' even if anyone demotivates you. My Best wishes to all of You. You are the Best!!!
Your Feedback for BMS.co.in?
BMS.co.in is the best site for BMS students which provides day to day updates about the course, especially important thing is, it also provides with questionnaire for every subjects especially for TY's along with tips for projects to be done and how to reduce your stress and tension during examinations. Overall, an excellent site with suggestions to the problems for the students.
The following two tabs change content below.
We, at BMS.co.in, believe in sharing knowledge and giving quality information to our BMS students. We are here to provide and update you with every details required by you BMSites! If you want to join us, please mail to
[email protected]