Open Cricket match @ Oval Maidan, Churchgate on 9th January 2013 was organized by Shikhar 2013- Inter-collegiate fest of Chetana College, Bandra.
The first match was between Kohinoor Business School and M.L. Dahanukar College. The toss was won by M.L. Dahanukar College and they decided to play first. Initially, the openers of M.L. Dahanukar College were a threat for Kohinoor Business School.
However, "we handled the threat with our teamword and consistency", said Avez Changal, Captain of Kohinoor Business School Cricket Team.
There was a controversy regarding newly amended runout rules which the opposite team (M.L. Dahanukar College) were unaware of. Anyways, the decision was given in favor of Kohinoor Business School.
Kohinoor Business School scored 39 runs in 5 overs consisting of 5 balls each. They had set a target of 40 runs for the opposite team. However, Kohinoor Business School won the match by 4 wickets.
Avez Changal, Captain of the proud winning team said, "It is a great feeling to win the 1st match of the knockout round & qualify for the quarters. I feel Rohit Shinde was the best bowler in my team. Our fielding was better and that's why we could make it. All I would like to say to everyone is stick to your basics in the game and no one can stop you."
Winning Team of Kohinoor Business School was represented by the following team members: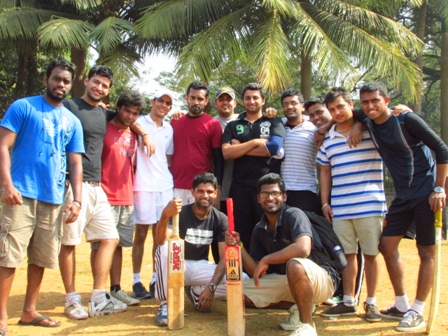 Avez Ahmed Changal – Captain
Vinod Vivek Wadekar – Vice Captain
Rohit Narayan Shinde – Best Bowler
Vishwajeet Anil Chand
Sanjay Fakira Manda
Ankit Ramachait Dubey
Sanket Anand
Ganesh Sudhir Nakti
Ajit Kumar Natulal Jain
Mahesh Anil Kharkande
Narayan Ojha
Abhishek Gade
Siddhesh Pachale
Report by Pooja Wagh
Pic Courtesy – Ghanshyam Patel
The following two tabs change content below.
Shikhar 2013
​Chetana's Self Financing Courses has established itself as a center for grooming dynamic leaders and ingenious managers. It aims to encourage the students to aspire for higher achievement. Shikhar'13 is entering into its 11th year and has laid down the foundation for an array of activities to be organised in our institution. The students of Chetana's Self-Financing Courses are proud to present you their prestigious INTER COLLEGIATE FESTS, SHIKHAR'13 is an intercollegiate sports and cultural event organised exclusively for the students of self financing courses all over Mumbai. SHIKHAR'13 promises to be bigger and grand in terms of exposure to the youth. In terms of participation the event promises to bring together hundreds of students from various under graduate colleges, across Mumbai.
Latest posts by Shikhar 2013 (see all)