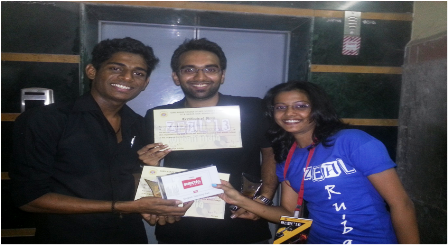 Sanjay Krishnan and Jose Michael
Sanjay Krishnan and Jose Michael are  the proud winners of the exciting Debate Contest held at Zeal 2013.
What they had to say:
Zeal 2013 is superb and in one word its "Entertaining".
The judging criteria was awesome as they pinpointed all the main points and Statistics.
Audiences were very supportive.
Volunteers were really helpful. They offered us water themselves, just no need to wait 😉
WE both are form BMS course and we think that this event was really helpful for us. For example we took the topic about, "THE SENIOR CITIZENS  – ASSETS TO THE SOCIETY" and we came to know so many things that we wouldn't have if we didn't participate in Zeal today.
Report by Swati Gupta
The following two tabs change content below.
Zeal 2013
Guru Nanak College's Zeal 2013 is an EDU-INFO-TAINMENT festival open for all students . From, Cows to Cars… Nature to Organic… Kaccha Rasta's to Skywalks… Agrarian to Industrial… And From Villages to Towns to Cities & Metropolitans… This is how The Transformation of India is in its present scenario taking leaps… And thus, we, the students of Guru nanak College, welcome you all to experience this New Rurbanized Era, "The Rurban India".
Latest posts by Zeal 2013 (see all)