Mumbai being the most popular city of a country which is the 2nd most populous in the world, is termed as the dream city of India. It is also termed as the commercial capital and movie hub of the nation.
Mumbaikars does consist of peoples representing different religion, caste, community. Mumbaikars indicate a "NEVER SAY DIE" attitude which has come into vision during the happening of natural and man-made disasters such as 26th July, 11/7 the train bomb blasts, 26/11 and many more.
As Bombay errr… Mumbai , the city grew to prominence under British colonial rule and is littered with monuments to the Raj. Next to the iconic Taj Mahal hotel, built in 1903 and combining Moorish, oriental and Florentine influences, is the Gateway of India, built to commemorate the arrival of George V in the city. The C.S.T the true evidence of Victoria architecture is the headquarters of central railways, serving as one of the finest railway station in the world.
The Gateway of India & Hotel Taj Mahal
Mumbai is the shaan and jaan of India, with beauty lying in it. In accordance with the religious aspect Mumbai does have the prestigious locations like Siddhi Vinayak temple, The Haji Ali mosque, The MountMarry church and many more.
A walk down Marine Drive, along the Arabian Sea, is all that is required to soothe one's soul after a day full of hectic activity. Food is the highlight of this city. Chaupati beach offers one a wide variety of street food ranging from bhelpuri (puffed rice mixed with onions, chillies and sauces), panipuri (puffed puris filled with sprouts and potatoes), vada pav (a deep fried cutlet made of potatoes in a round shaped bread) and paw bhaji (vegetables eaten with round shaped bread). Desserts of this place include chikki, srikhand, puran poli and shira.
The ever soothing Marine Drive
For all that the world knows about Indian cuisine, it's as if, say, Italian food were still defined by spaghetti and meatballs. Restaurants outside India tend to serve only Mughlai food from the north: curries, kebabs, naan, you know the drill. Even in India, places catering to tourists usually stick to the tested northern formula.
Bombay is a resounding exception. You'll find restaurants serving regional dishes—Goan, Kashmiri, Keralan, Tamil, Hyderabadi—that are as far from tandoori chicken as coconut curry is from coq au vin. One of my favorite places, the hopelessly named Oh! Calcutta, specializes in the strange and delicious Bengali cuisine, so unlike other Indian food. (Bengal is the only region where a bowl of mustard is found on every table, as at French bistros.)
Tempting Khau Galli
I love the extremities of Bombay. To me, it's the most extreme city in the world. It's where you have a marriage hall located next to a crematorium; super deluxe five-star hotel buildings rising amongst slum clusters; a Lamborghini sharing the same road as bullock carts; and street food vendors right outside fine-dine establishments. There is an organised chaos and a mad energy to
Bombay. I also particularly like how the old exists with the new—Victorian architecture, Art Deco buildings, 200-year old villages tucked away in Bandra—what's not to love
If you are a frequent commuter of Mumbai Local train, you may run into a white clad-topi bearer "Dabbawala" who do represent the spirit of hardworking. They emerge at 11 each weekday morning: thousands of white-clad dabba wallahs, scurrying out of Victoria Terminus, Bombay's busiest railway station. The suburban trains have just arrived, and with them, lunch for some 175,000 office workers.
Each meal is prepared at the worker's home that morning—by a wife, a mother, a servant—and packed into a tin lunch box, or dhaaba. These are then collected door by door, loaded onto trains, and, upon arrival at V.T., distributed among the dabba wallahs for delivery to offices. (Since many of the deliverymen are illiterate, colored markings on each box indicate its destination.) this service—which also includes picking up the tins after lunch and returning them to their respective kitchens, hours before the commuters arrive home themselves.
That's the reason they are globally acclaimed Six Sigma Award receiving section of India. Even their Case study is studied widely across the world.
Dabbawalas on their Duty
"SHOPPING" in Mumbai is an absolute delight. A house to all the brands of the world, this place also provides a good bargain for people who do not want to leave a hole in their pockets. Linking Road, Fashion Street and Lokhandwala markets are ideal places for the street shoppers and the young trendy teenagers where nice products can be purchased at really cheap prices. For the elitists, malls are spread all across the city, housing brands, making Mumbai a shopper's paradise.
Mumbai has witnessed a remarkable transformation with regards to the transportation & commuter beneficiary. Bandra-Worli Sea link stand still as the hi tech infrastructural landmark. Adding to it Metro trains & Mono rail came into existence. Mumbai T2 Airport is not less graded that of Dubai'. One can have the lavish & luxurious experience just whiling the time at its waiting room.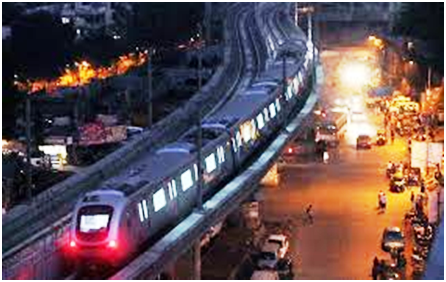 Fast Life in a Mumbai Metro
Mumbai, thus is the definition of Urban India. Not meant for people who love the calm and peace of the countryside, it is however the best place to visit if one believes in living life to the fullest. It would sound very clichéd to call Mumbai the New York of India, but that is what describes this city of dreams the best.
AUTHOR : ADARSH JADHAV
PUBLISHED BY : SHWETA AGARWAL
The following two tabs change content below.
Pillai College
Pillai College of Arts, Commerce and Science was established in 1998 by Dr. K. M. Vasudevan Pillai whose vision was to provide students of Navi Mumbai with quality education in a high-tech atmosphere. It is situated in a 10 acre land surrounded by natural beauty and supported by the best infrastructure facilities, a state-of-the-art conference room, well-equipped computer labs and well-stocked libraries.
Latest posts by Pillai College (see all)