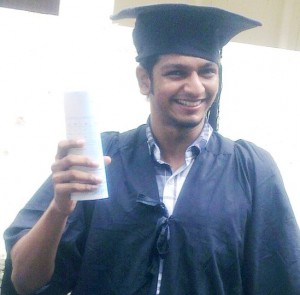 "BMS.co.in is better than Google for BMS students" – Ronnie David, Topper of Vivek College (75%).
Were you expecting to top in the exams? To whom would you credit this success to?
Frankly speaking, I never thought that I would ever come 1st, especially in academics, as I was always an average student. But I always wanted to improve and somehow score a distinction in my graduation and therefore I strived harder and gave my best. Scoring a distinction was not that easy for me but I didn't lose hope, I started focusing on the subjects that were tough and practiced more. I would really like to thank my close friends who were always there for me , to help me and also the  bms.co.in site and I would also like to thank God for my achievement.
Did you start preparing right from the first day of your BMS?
I didn't exactly start studying from the first day but as the days passed I felt that a large amount of portion is being covered and if I don't start now I won't be able to get distinction and since this was the last semester I wanted to see the distinction remark badly on my report card.
How did you study for Sem 5 and Sem 6?
I just studied normally, didn't have any strategy for any subject . But, I sincerely attended all my lectures. And I really made an attempt to understand each and every concept that was taught in class. So in short you can say that I just studied the Imp. questions which was given by bms.co.in.
I mentioned earlier how i went about with my studying pattern. But for SSF, I.F. and O.R.  I really did put in some more effort to practice the sums on a regular basis.
Which are the easy subjects in Sem 5 and Sem 6? Any special way of writing the answers?
My strength lies in the practical subjects like O.R , SSF n I.F so I feel that comparatively they are easy, as they are less theory based. I am little week in mugging up things so I don't like theory subjects at all.
How do you crack Case Studies in Theory and Practical Subjects?
I tried to include practical examples and theory concepts in the answers that I attempt. And I also used to read the answers what my friends used to write in the internal exams especially when they scored more than me and learnt how they presented their answers. So by analyzing their paper, I came to know what I lacked and how much I need to work hard.
Any specific study pattern you adopted i.e. timetable / how many hours you allotted per subject per day etc?
Well… Not exactly..But I had a target set in my mind what I had to do every single day. And regular practice of practical subjects was very much that helped me to solve problems.
What message would you like to give to the coming batches of BMS students?
I would just want them to know that BMS is not tough, as all say, but if you have the will and the hunger to become better day by day, you will definitely end up becoming a winner.
What are the future plans?
I have joined classes for CET exams in Feb'12 and my future plan is to do MBA in Finance from a reputed institute in Mumbai..
Your Feedback for BMS.co.in?
BMS.co.in is a perfect place to come, when you are looking out for something or if you have any BMS related doubt, then u don't need to Google it, coz they are even better than Google.. And here I'm not trying to promote their website, but I really, benefited from them, and so most of the credit of my success belongs to them.
Thank YOU bms.co.in for being there for people like us.
The following two tabs change content below.
We, at BMS.co.in, believe in sharing knowledge and giving quality information to our BMS students. We are here to provide and update you with every details required by you BMSites! If you want to join us, please mail to
[email protected]