Hello there 🙂
Lets update our knowledge today on Infosys, which is one of the best company- a company that everyone dreams to work with.
Narayana Murthy, is an Indian IT industrialist and the co-founder of Infosys. It is now a listed company.
Infosys Ltd (formerly Infosys Technologies Limited) is an Indian

multinational corporation 

 that provides business consulting,

information technology,

 

software engineering 

 and

outsourcing 

services. It is headquartered in Banglore,

Karnataka.

 Infosys is the third largest India-based IT services company by 2014 revenues.
At present,Vishal Sikka is the chief executive officer and managing director (CEO and MD) of the company,This is the first time Infosys Ltd, India's s did not choose one of its founders for the role.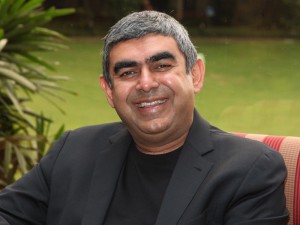 Facts About Infosys-2014
Dr. Vishal Sikka takes over as the CEO and MD from S.D. Shibulal

Revenue crosses 50,000 crore in rupee terms

Board decides to increase the dividend pay-out ratio to up to 40% of post-tax profits

Cash and cash equivalents (including Available-for-sale financial assets and certificates of deposit) cross 5 billion in dollar terms.
A video that you need to watch :
https://www.youtube.com/watch?v=I05B1VKiHhc
So guys..
this was it for today..
see you soon in next article 🙂