10/02/15 – Delhi Elections Some News:
1. Excitement is in the air in the national capital to know who the next Chief Minister will be as the stage is set for the counting of votes for the Delhi Assembly elections tomorrow.
2. The poll saw a bitter campaign throughout as BJP's Kiran Bedi and Kejriwal-led Aam Aadmi Party (AAP) engaged in a high-tension battle and traded charges even on the day of polling.
3. The Delhi Election Office has made elaborate arrangements for the counting of votes. It will take place at 14 centres — with around two each in every parliamentary constituency — under tight security.
4.Over 10,000 security personnel, including from the paramilitary forces, have been deployed to guard 20,000 electronic voting machines.
5. Updates according to the time:
9.08AM Update: The current trends of Delhi Assembly Elections Results 2015 are going in favor of AAP. Arvind Kejriwal's party is leading on 36 seats while the BJP is ahead on just 11 seats. Congress leads on 4 seats.
9.40 AM Update: AAP heads towards absolute majority leading on 57 seats. Arvind Kejriwal is leading from New Delhi while Kiran Bedi is trailing from Krishna Nagar.
10.15 AM Update: Anna Hazare says, ' Arvind Kejriwal must not repeat his mistakes and remember the movement against corruption. People's mandate must be accepted. Kiran Bedi is not responsible for BJP's defeat. It is PM Narendra Modi's defeat.'
3.45 PM Update: As of now, Aam Aadmi Party has won 59 seats leading on 8 more seats in Delhi Assembly Elections 2015. BJP failed to continue its spectacular performance in Delhi and won just three seats. Congress suffered yet another humiliated defeat losing all seats in national capital.
7.30 PM Update: After a landslide victory in Delhi Assembly Elections 2015, newly elected AAP MLAs elected Arvind Kejriwal as party's leader in Delhi Legislative Assembly. Later Kejriwal reached Delhi L G Najeeb Jung's residence to stake claim for government formation.
*These updates are according to the time provided*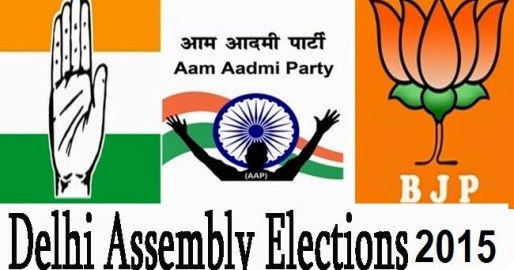 6. An interview with Arvind Kejriwal below:
https://www.youtube.com/watch?v=7xnox5CmvKs