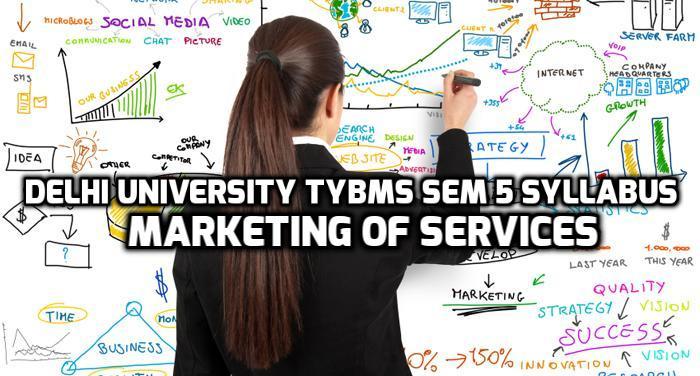 Marketing of services refers to business to consumer B2C and business to business B2B services like telecommunication services, financial services, car rental services, air travel, health care services and professional services.
Marketing of Services subject is designed to equip DU BMS students with the knowledge of marketing of all types of services.
Here we present Delhi University TYBMS Sem 5 Syllabus – Marketing of Services:
Unit 1 – 10 lectures
Emergence of service economy

Contributory factors

Consumption pattern analysis

Economic transformation

Unique aspects of services

Goods

Services

Products

Managerial challenges
Unit 2 – 10 lectures
Marketing mix

Concept of value and value drivers

Extended framework

Service marketing system

Production

Marketing

Human resources

Sequential analysis
Unit 3 – 10 lectures
Service system positioning

Service delivery process

Blueprinting

Service buying behavior

Difference in perspective,

Risk analysis

Decision process
Unit 4 – 10 lectures
Service marketing strategy

Segmentation

Targeting and positioning

Market innovation

Competitive differentiation

Competitive advantage

Value chain analysis
Unit 5 – 16 lectures
Service quality

Concept, technical and functional quality

Service quality models and measurement

Demand and supply imbalances management

Challenges and strategies

Service culture

Managing by values

Recovery and empowerment

Relationship building

Relationship marketing

Bonding and life time value service industries

Insurance

Banking

Air transportation

Courier

Education
Textbooks:
Interactive services marketing – Fiask, R.P, Grove, S.J. & John, J.

Understanding services management, Integrated marketing – Glynn, W.J. & Barnes, J.G.

Service management and marketing : a customer relationship management approach – Gronroos, C.

Marketing of services, Concepts, strategies and cases – Hoffman, K.D., & John, E.G.B.

Service marketing, people, technology and strategy – Lovelck, C, & Chatterjee, J.

Service marketing : The Indian perspective – Shanker, R.