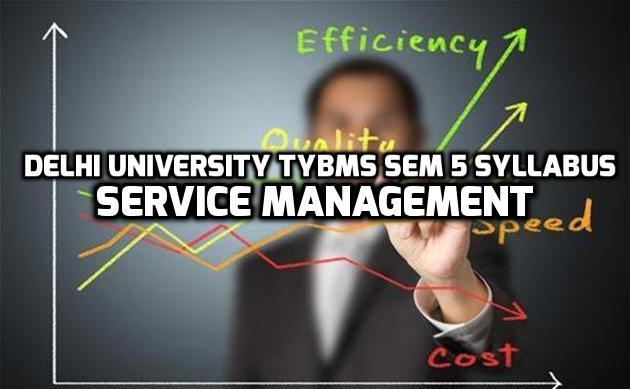 Service Management is a tool through which a company can optimize inventory, reduce high service costs, optimize customer service, increase service revenue, reduces obsolescence costs and improves customer satisfaction levels.
Service management subject aims to provide an understanding and acquaints DU BMS students with decision making in planning, design, delivery, quality and scheduling of service operations even in global scale. DU BMS students are also expected to appreciate the role of service quality in emerging service economy of India in relation to international business environment.
Here we present Delhi University TYBMS Sem 5 Syllabus – Service Management:
Unit 1 – 8 lectures
Introduction to Services

Nature of Services

Characteristics of Services – Intangibility, Inconsistency, Inseparability and Inventory

Search, experience and credence attributes

Classification of services

Consumer versus industrial services

Importance of services marketing

Every business a service business

Service as key differentiator for manufacturing industries
Unit 2 – 10 lectures
Service marketing mix

Introduction to the 7 Ps of service marketing mix

Product-service continuum

Standalone service products

Service products bundled with tangible products

Service life cycle

Services distribution

Promotion

Pricing

People

Physical evidence

Process
Unit 3 – 12 lectures
Matrix of service characteristics

Challenges in operations management of services

Aggregate capacity planning for services

Facility location and layout for services

Job and work design

Safety and physical environment

Effect of automation

Operations standards and work measurement

Measurement and control and improvement of quality of services
Unit 4 – 12 lectures
Concept of a total quality service

Dynamics of service delivery system

Aggregate planning for services

Scheduling for service personnel and vehicles

Inventory management in services

Supply chain and distribution of services

Total productive maintenance (TPM) in services

Case studies of exemplary professional services

Concept of total quality (TQ) in services

Determinants of service quality

Components of TQ Loop

Elements of a TQM system

Developing service quality culture and ethics

Trust, value, integrity and responsibility
Unit 5 – 14 lectures
Quality policy and organization

Service quality costs

Design for quality

Failsafing

Service quality deployment

Benchmarking

Q-7 and new Q-7 tools

Assessment of customer feedback and satisfaction

Walk through audit

Use of scales like SERVQUAL and LODGESERVE

Service quality gaps analysis

Customer value analysis

Human aspects of service quality

Total employee involvement and empowerment

Suggestion system

Benchmarking

Implementing service quality

Complaints handling and service recovery

Unconditional service guarantee and refunds

Integrating service quality with environment

Safety and supply chain

Total service quality management systems

Assessment, accreditation and audits.
Textbooks and References:
Service America: Doing business in the new economy – Albrecht, K, and Zemke, R
Service management: operating decisions – Collier, D.A.
Services marketing – Tata McGraw Hill
Service Management Effectiveness – Bowen, D.E., Chase, R.B., & Cummings, T.G.
Service Management Effectiveness: Balancing Strategy, Organization and Human Resources, Operations and Marketing – Bowmen, D.E.
Service Management and Operations – Haksever, C, Render, B, Russell, R.S., & Murdic, R.G.
Service Management for Competitive Advantage – Fitzsimmons, J.A, & Fitzsimmons, M.
Service Operations Management – Fitzsimmons, J.A. & Sullivan, R.S.
Service Breakthroughs, Changing the Rules of the Game – Heskett, J.L.
The following two tabs change content below.
We, at BMS.co.in, believe in sharing knowledge and giving quality information to our BMS students. We are here to provide and update you with every details required by you BMSites! If you want to join us, please mail to contact@bms.co.in.