Shahadat-e-Hazrat Ali – 19th July 2014. Hazrat Ali is the wali of Allah and wasi of the Prophet Muhammad(S.A.W) and Imam. There are many aayaat in the Holy Quran in his praise and the Prophet Muhammad (S.A.W) has let behind many hadits in his praise. Every Muslim has faith in Hazrat Ali. Hazrat Ali (karam Allahu wajhu)'s last memorable words: "Fuzto-Be-Rabbil-Kaaba" (By the Lord of Kaaba, I have succeeded.)
Here we present Shahadat-e-Hazrat Ali SMS, Messages, Quotes, Wishes, Greetings, Wordings in Urdu 2014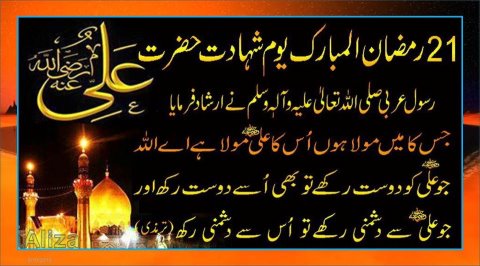 1) Rukhsat E Haider A.s Ka Ayam Qareeb Araha Hai
Hasnain A.s Ki Yatimi Zainab A.s Ki Be Ridae
yaad Dila K Zakhmi Jabeen E Ali A.s
Mujh Ko Rula Raha Hai
2) logo jahaan main girya o matam ki shub hai aj,
sir peetu roz-e-hushr hai zarbat ki shub hai aj
bazmay aza main akay na rona ghazab hai aj
ghum say sabhi imamun ki halat ajab hai aj
paya jo mehway bandagiay bay niaz main
talwaar rozay daar ko mari namaz main
3) Lo Momino Imam(as) ki shahadat kareeb hai
Hangam Hashar Waqt-e-Qayamat kareeb hai
Aaqa ki hum Ghulamon se Rukhsat kareeb hai
Baag-e-Jahan baaed hai Jannat kareeb hai
Sadme se Jin-o-Ins-o-Malak jaan khoenge
Aaqa Hamare howay shaheed yeh keh ke roenge
4) Weeran hai madina koofa ujar gaya hai.
Malik lahoo mai tar hai kaba tarap raha hai.
Sab eid ki jaha'n mai tayari ker rahe hain.
Aur ghar mai FATIMA s.a k farshe aza bicha hai.
Awaz arahe hai zakhmo'n se MURTAZA k.
Karbobala ka Arshad aghaz ho chuka hai
5) Rab.E.Kaba Ki Qasam ALi(a.s) Hain Surkh Ro Huye,
Jafa Ki Teg Jb ChaLi ALi(a.s) Ne Tab Hai You'n

Kaha,
Khuda(j.j) K Deen K Liye Hr Aik ZuLm Hai Sah'a,
Jaben Se Khon Hai Rawa'n Labon Pe Shukr.E.Kibria,
Lae,n Ne Mara ALi(a.s) Humara.
6) Pohanchi jo Gosh e Hazrat Zainab <sa> mein ye sada,
Ro kar unhon ne Shabbar_o_Shabbir se kaha,
Jao Khuda k wastay Masjid mein tum zara,
Kehta hy koi Qatal hua Shah_e_La Fatah,
Kis ne kia shahed Imam e hijaaz ko?
Baba abi to ghar se gye they namaz ko.
Alahum Lan Qatlat amer al momnin
7) JUB BAD-E-ALI RAKHA SAR SAJDAY MY ZAINAB NY
ZAINAB KO NAZAR AAY ZINDAN MOSALLAY PAR
AY NOOR ALI AB TAK QAIM JO MOSALLA HAI
YEH KHOON-E-ALI KA HAI EHSAN MOSALLAY PAR
8) TUR KHOOn MY HOA KOLL-E-EMAN MOSALLAY PAR.
LIKHY GA'AY MAQTAL K ONWAN MOSALLAY PAR.
MEHRAB-E-IBADAT MY, WAL USR KA MATAM HAI.
WAL FAJR K ROTY HAIN ARKAN MOSALLAY PAR.
9) Baba Pay Chali Teigh E Sitam Roti Hai Zainab S.A
Tasweer E Ghum O Dard Bani Bethi Hai Zainab S.A
Aay Palnay Waly Mery Baba Ko Bacha Lay
Bikhray Ho'ay Baal Dua Karti Hai Zainab
10) KHOON E HAIDER(A.S) MEIN TERI DUBI TALWAR
TERE AJDAD MEIN SHAMIL HEIN WOH TEENO YAAR
TU NEY AULAD E PAYAMBER(S.A.W) KO KIA HAY ASHKBAR
MIL K BOLAIN SAB ALI(A.S) K GHAMKHAR
The following two tabs change content below.
We, at BMS.co.in, believe in sharing knowledge and giving quality information to our BMS students. We are here to provide and update you with every details required by you BMSites! If you want to join us, please mail to
[email protected]