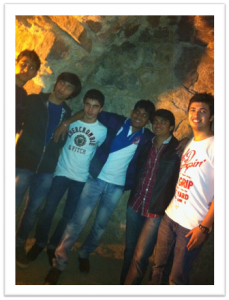 A SIR WHO FITS IN LIKE FRIENDS.
There are a number of teachers in a life of every man, but there are an only few who actually touch the heart of their students. A teacher is the one who shows or teaches us the path of life. Students have different criteria when choosing their favourites; some of them prefer those who don't give hard homework assignments, or don't ask difficult questions. Some students like it when teachers don't bother them at all and just read their lectures. But I am not one of them. As for me, the most important criteria for my favourite teacher is his/her devotion to the subject he or she teaches.
Those who are really devoted to what they do are really hard to be found. But if you succeed to meet such teachers in your academic career, you are really lucky.
They stand out from all the rest, as when they read lectures, they don't use any additional materials, but only find some enchanting illustrations of what they talk about. When they speak, it is really visible that they love what they do, as there is such a shining in their eyes that cannot be missed. Unfortunately, many students don't like such teachers, as often they have strict rules and ask many questions. All those who are interested in studying will surely appreciate such bright personalities.
I consider myself to be a happy person, as I had such a professor in college. He taught me different subjects in different semesters and it was really interesting to attend his classes and listen to his lectures. I acquired amazing knowledge from his teachings, which has not only helped me in my studies but also in leading a successful life.
Prof. Vinay Pandit is my favourite professor. He is a brilliant professor. He has done his M.SC, MBA, PHD OR SET & is working on various research topics. He has the wonderful ability of being able to motivate students in a down-to-earth way. He is a very understanding teacher.
His teaching skills are remarkable. He is among those professors who will appreciate a student for his good work and at the same time he can raise his tone over at the ones who don't perform up to the mark. But at the end of the day this only helps a student to improve himself and that's the motto of his life. All of us are grateful to him for that. He has a very strong personality which can even make a confident person nervous. His look is enough for a student to understand that he is annoyed and on the other hand he would crack jokes which can make students laugh hard. Some of us fear from him, some of us are nervous when he takes a lecture but at the end we all are fond of him. He forms a benchmark for students and we all work hard to accomplish it and he is the main helping hand in it.
He treats students like friends, understands them and solves their problems in the best possible and easiest way. He will remain calm until and unless his students perform their best. In his lecture a student can ask any question any time. But his teaching skill is so strong that there is least scope for a student to ask any query.
He is strict about punctually and doesn't usually entertain late comers. He taught us to use time as a valuable resource. He has taught us this by a project of research management. That project would never be forgotten by any student. It taught us many things and it was the most difficult project for any student but due to his guidance we all could make it through.
On a personal level I would say he always motivated me and he gave me the confidence to realize that I could make something out of myself. He detected my strengths and weaknesses and suggested me ways to improve. He gave me a belief to believe in myself and have inner confidence. This happened when we went to Industrial visit to Hyderabad. His professional side of professor was left behind during that time. He knows when he should be serious and when it's the time for fun. It is because of him, I acquired the desire to learn and gather knowledge and this has definitely helped me till now.
A Professor in college helps to build our character as we are in a stage of moulding ourselves. My professor has helped me to be an excellent man and has always bought me success. He has always guided me about my future and helped me work on my weakness.
If today I ought to thank anybody for my success, it would definitely be my favourite professor who has not only given me bookish Knowledge but also knowledge and an insight about the real world. I owe him a lot of gratitude and I try my best in every opportunity to help me in any way I could and always thank God for giving me an excellent life tutor in the form of a college professor. Basically he fulfills all my requirement of a perfect teacher. He is the one professor I would never forget and have eternal gratitude towards.
Submitted by –

Kafeel Nathani

(Lala Lajpatrai College)
The following two tabs change content below.
Kafeel Nathani
Hi! I am Kafeel Nathani, doing BMS from Lala Lajpatrai College. For me, Music is Life. I like hanging out with friends. I am a big fan of Atif Aslam, Singer and my favorite cricketer is Virat Kohli.
Latest posts by Kafeel Nathani (see all)