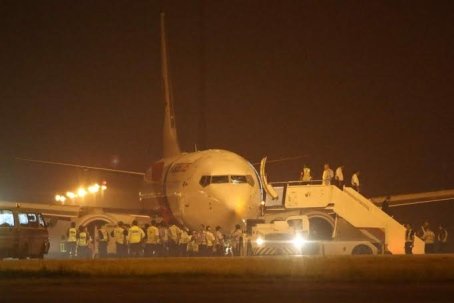 Malaysia Airlines flight MH192 which carried 166 people had some technical problem in the aircraft's right-hand landing gear. The flight had to make an emergency landing at KLIA (Kuala Lumpur International Airport) at around 2.00am, Monday. Flight MH192, operated on the B737-800 aircraft, was scheduled to arrive in Bangalore at 11.35pm the same day. The flight was carrying a total number of 166 people on board which include 159 passengers and 07 crew members. Malaysia airlines is still recovering from the loss and presumed crash of flight MH370, which disappeared March 8 while en route from Kuala Lumpur to Beijing.
#MH192 yesterday Did a @ArvindKejriwal * UTurn *

— Vidur AFC KapÖÖr (@kapoorvidur) April 21, 2014
Problem with #MH192 started during takeoff, loud noise heard before aircraft started shaking & oxygen masks fell from their compartments.

— IZ Reloaded (@izreloaded) April 21, 2014
News: #MH192 is under trouble. Alia bhatt: Thank God,my car number is different.

— ROFL Engineer (@gaurav_verma23) April 21, 2014
Malaysian Airlines is heavily inspired by Kejriwal ji, now #MH192 takes a U-turn mid air after a tyre burst.

— पप्पू की माँ (@pappukimumma) April 21, 2014
all praises and respect goes to the pilot of flight #mh192. Thank God everyone is safe. Malaysia Airlines should really do something!

— Jonathan Ding (@JonathanDing_) April 21, 2014
The following two tabs change content below.
live lazzy ..... go crazzy ^_^ Berry pin - 7582495D <3 <3 intagram - ash_0309
Latest posts by Aishwarya Mehta (see all)