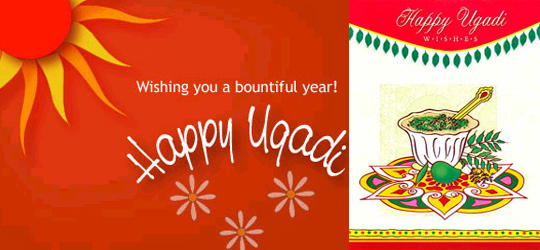 Don't miss to check : Latest SMS, Wallpapers : Happy Gudi Padwa, Ugadi, Cheti Chand, Chaitra Navratri, Nyepi Day, Hindu New Year, April Fools' Day, Ram Navami 2014
Ugadi (Kannada, Telugu) from Yuga + Aadi, yuga means era, aadi means start it means 'The start of an era' Ugadi is known as New Year day for people of Deccan region. This festival is celebrated mostly at Andhra Pradesh and Karnataka.
Given here is a good collection of 'Ugadi SMS', which you can use to wish your friends and family members
on the special day.
1)
Velugula harathi…telugu vari kothavelugula kanthi..vachenamma
ugadi.kotha samvachara vrudhi.ugadi shubakankshalu.
2)
Kokilammala kuthalatho
Mavikommala puthalatho
Vachindi ugadi
Neeku techenduku santhoshala nidhi
Ugadi shubakanshalu
3)
Maduramaina Prathiksanam
Nilsthundi Jeevitantam
Raabothunna Kotta Samvataram
Alanti Ksanalani Enno ivalani Korukuntu
Ugadi Shubakankshalu
4)
He Yugadiyendu
Ninna Bhalina
Bhaleleya Mele
Truptiya
Mrustannave Seegaly
Happy Ugadi
5)
Happy Ugadi to all naa snehithulaku
Ugadi nuthana shubhakashala dinam
For the people of andhra pradesh mathu
Also for telugu people anothaover The
Prapanchamlu So adhuke On adhi
Dinam Enjoy jothalu nee snehithalu
Oncce again I wish niku happy Ugadi
6)
Difficulties in mee jeevithamlu
Malli ravadhu to Destroy nuvu kani
To sahayam meku Realize meru
Hidden potential and power let
Difficultiestelusa adhi meru
Difficult E-yearlu happy Ugadhi
7)
"U" thsavam
"G" owravam
"A" anandam
"D" hanam
"I" shwaryam
"UGADI" Shrikara Nama Samvatsra Shubhakankshalu!
8)
Bevu Bellagalante
Bereyaly Nohu Nalivu
Halu Jenu beretante
Badhukina Yella
Novu Maretante!
9)
Yugadiya Bannagalu Baraly
He Varusha Nimma Bhalali
Masadiraly Yendendigu
He Hrudaya Rangoli.
10)
May this Ugadi bring you new spirit
new beginning
and new prosperity
Wishing you Happy Ugadi
11)
Lets welcome Ugadi with gr8 hope, eagerness & anticipation.Let us look
forward 2 a plentiful of joy, satisfaction, peace & prosperity .
The following two tabs change content below.
live lazzy ..... go crazzy ^_^ Berry pin - 7582495D <3 <3 intagram - ash_0309
Latest posts by Aishwarya Mehta (see all)