BMS College Festivals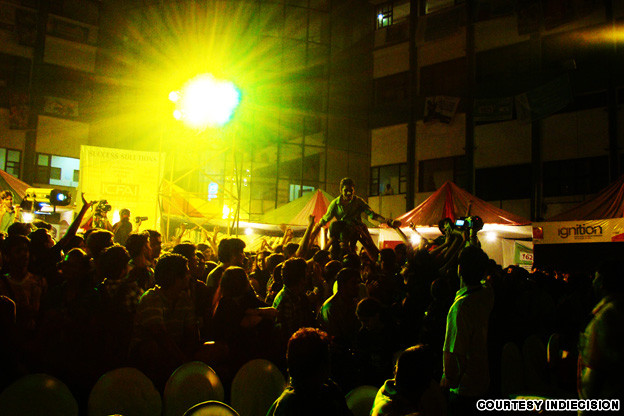 N M College: Drishti
Drishti is the seven-day management festival of Narsee Monjee College of Commerce and Economics. Drishti has been organised successfully since the last 10 years and this year had 17 events conducted over six different venues.
Apart from fun events, the festival also features a mini Olympic event which has sports like the American Football and Poker. The festival had loads of other exciting events lined up for students like criminal codes, concerts, prom nites for students where they enjoy music and dance.
Jai Hind College: Talaash
Talaash is an inter-collegiate festival that is hosted by the BMS students at Jai Hind College. This annual affair brings with it new surprises, new challenges, new winners and lots of fun along with it.
Over the past 10 years, Talaash has built a reputation of being a trend-setter. They were the first to organize an event that merged dance and drama, they were also the first to festival to have its own advertisement and also not to forget the big prizes that are given away!
The main USP events at Talaash are EVD (BMS) , Market King (BMM) and Escape from Alcatraz (BAF).
Lala Lajpat Rai College: Tsunami
Tsunami has marked the beginning of brilliance in creation and integration for the BMS students of Lala Lajpat Rai CollegeTsunami has proved to be bigger and better each year. Its growth and impact is proven by the plethora of impressive sponsors that have been riding the wave along with them in the past years.
It has established itself as a top management festival and spread its footprints accross 30 colleges.
The festival implies togetherness. It also provides a platform for all those who are a part of the program stream an opportunity to showcase their talent and a pedestal for those who believe and dare to tread the path of risk in order to succeed.
Mithibai College: Colosseum
'Colosseum' an Inter-collegiate Management Festival hosted by the BMS department of Mithibai College has been organized successfully for the last 9 years. It is a three day event that features a number of activities and events that challenge the potential of students from all over the city.
Literally bearing the connotation of an arena built in the ancient Rome for public sports events, entertainment, or assemblies, the students attempt to and brilliantly succeed at replicating the same.
Every year the students unite in a combined and synergized effort to organize this festival. Not only does it allow the students to explore their creative and artistic sensibilities but it also provides a platform to exhibit textbook managerial practices in a more realistic and personal environment thus strengthening and firming their understanding of core concepts.
The festival entails a plethora of events and games ranging from the performing arts, sports, academics, literary events, fine arts, and special events.
Bhavans Chowpatty: Manzeal
Manzeal is the college festival organized by the BMS  department of Bhavans College in Chowpatty. Manzeal has come out with 6 editions of their fest so far and continues to come up with interesting concepts year after year.
They have had successful themes such as 'Wild West' and 'Mavericks' which tackled global, vibrant issues and the fight against global warming, tackling various ecological and environmental issues respectively.
Various events like the fine arts, performing arts events and management events touch different social and related aspects of the theme of the main event.
The BMS department at  Baratiya Vidya Bhavan's believes that every drop makes an ocean and even if they succeed in making a difference, however small, so be it.
Sydenham College: Career Fair
The Career Fair is organized by the students of the Bachelor of Management Studies (BMS). Sydenham College's annual Career Fair began in 2004 as an attempt to bring to students from across the city, a better understanding of the options available to them once they step out of the comfort of their educational institutions.
The festival has now grown to now host 40 institutions including institutions from the spheres of science, aviation, animation, commerce, computer, hotel management and many more. This event is going to be spread over the entire college and its popularity has gone up tenfold as the number of students who attended it last year rests at a whopping 5000 people.
Through the medium of this fair, we seek to make people aware of the rapidly growing number of opportunities awaiting them in the competitive corporate world as well as the seemingly "off-beat" career paths, for which it is difficult to gather the correct information.
Career Fair not only hosts educational stalls, but also organizes seminars and workshops conducted by distinguished speakers and professionals.
MMK College: Lakshya
The BMS department which is an integral part of MMK College of Commerce and Economics situated at Bandra, presents an intercollegiate BMS festival of its own called Lakshya every year.
Lakshya, aims at involving the large number of students studying across the wide variety of colleges situated across the city of Mumbai and inculcating a sense of competitiveness among them through various events covering areas of management, sports as well as cultural.
Apart from being an inter college event, Lakshya is a movement that involves not only healthy competition between college and interaction between like minded people, but also provides an opportunity to voice one's opinions, gather support for initiatives and do something for the welfare of those who are less privileged.
The following two tabs change content below.
Kartik Raichura is the founder and CEO of ManagementParadise.com - the world's leading management education focused community platform. A business post graduate from Welingkar Institute of Management, Mumbai, Kartik Raichura has been an author, a public speaker, and a social worker. He's also the recipient of Star Young Entrepreneur Award and has addressed the audience at Tedx Indore.
Latest posts by Kartik Raichura (see all)