After launching their best competitor for underwater design the Sony Xperia z1 in January a lot of camera and display functions were not included which released after he phones launch. These functions included the Exmor sensor system for night cameras, Sony's 4k and Bravia engine Technology used for developing phone IPS display technology. As a deterrent to Z2 launch to fill the gap between technological releases Sony launched the new Z1 compact. This model was launched with the Androids latest software the KITKAT version 4.4.
So how do you take something so big and turn into so small, well with newer technology and award wining breakthroughs in the fields of design, technology & innovative approach Sony made it happen. The following features made it all happen.
 
Camera
Sony's award-winning G Lens and the intelligent BIONZ™ mobile image processing system made everything possible on the camera front to go smaller this combined with Exmor RS™ sensor and 20.7 mega pixels camera made his little machine meanest for its category.
Design
Though nothing beats Sony Xperia z1 in water resistance and durability its junior version packed the same punch as he big guy. Giving ip55 and ip58 dust resistance & water resistance which allows it to stay under water at 1.5 meters for 30 minutes with all covers shut much like its granddad Sony Xperia Z.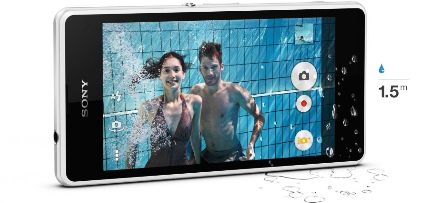 Processor
With the latest addition of QUALCOMM snapdragon 2.2 processor this pocket device can shell out a bomb of power coupled with a superb battery of 2300mah
My review of this little Chihuahua size phone is its good phone for the budget sized starters in Sony for the ones new too Sony can try his phone before moving on to bigger investment. The pros for this phone are its Design, Camera, Performance, but the cons have a slight edge over the pros that is usability everything becomes compact, No value for money and the launch too fill the gap made it more of a prototype instead of protégé  to its successor to Xperia z2. Overall must buy for people who want to try power of Sony for a lower budget comparable to galaxy s4 at current date value.
– Aditya Chavan
The following two tabs change content below.
BMS Team aims to help the BMS students all over Mumbai colleges, empower BMSites and revolutionize management education. If you wish to be a part of our core team, write to contact@bms.co.in