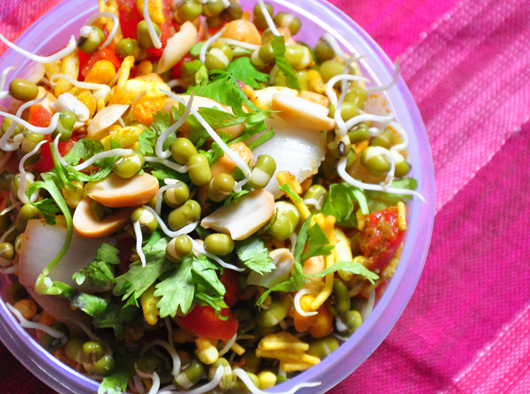 Indians love their chats and spend many an evening eating their favorite masala puri or pani puri, relishing its magical, addictive flavors like there's no tomorrow.But chats are not limited to it. There are many varieties and new innovations done. Here are a few different variety recipe's listed below.
1)      SWEET POTATO CHAT: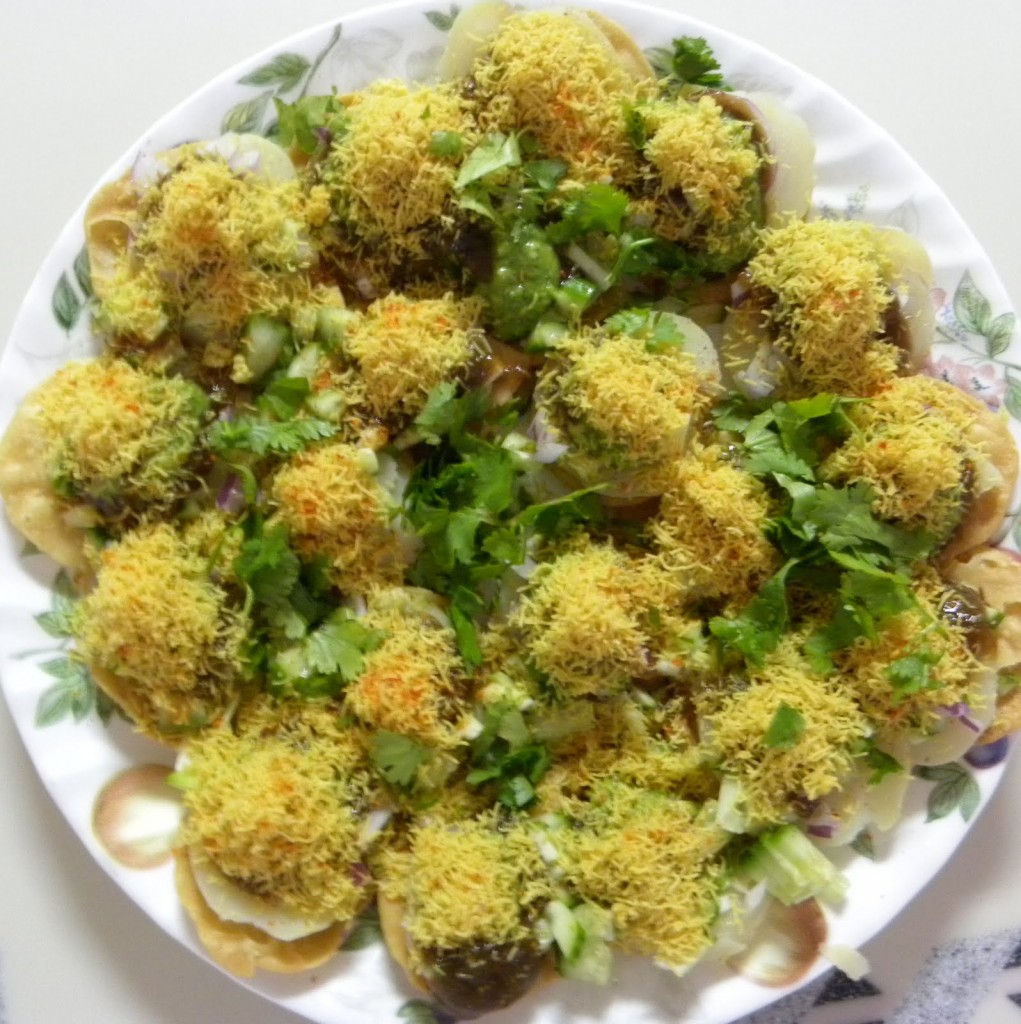 ®     2 large sweet potatoes, peeled and cut into 1 cm discs
®     1 litre water
®     1 cup chickpeas, soaked overnight, boiled and water drained. Or use canned ones like I did.
®     1 small red onion finely chopped
®     half cup sev, 1 cup tamarind chutney
®     1-2 tbsp. chat masala
®     a few coriander leaves
®     1 tbsp. paprika powder for garnish, optional
®     a few lime wedges for garnish, optional
1. Preheat oven to 200 deg. Celsius.
2. Pour boiling water over the sweet potato discs. Cover and keep aside for 10-15 mins. Then drain the water completely and dry the sweet potato discs.
3. Now carefully toss the sweet potatoes with 2 tbsp. oil and a pinch of salt in a wide bowl, such that the discs are coated with oil and salt.
4. Spread out the discs evenly on a baking tray lined with parchment paper and bake at 200 degrees for 10-15 minutes until the sweet potato discs just start to turn brown.
5. Take them out of the oven and let them cool completely on a plate.
6. Meanwhile prepare the topping for the chat. Mix the chopped red onions and sev together in a bowl. Slightly mash the boiled chickpeas in a separate bowl.
7. Spoon about a teaspoon of the chickpeas on top of the baked sweet potato disc. Then top with some tamarind chutney and then spoon some of the onion-sev mixture. Finally garnish with chat masala and coriander. Repeat for all the sweet potato discs. Garnish with a pinch of paprika, a drizzle of lime juice for an extra zing and serve.
*can use Potato also
2) SAMOSA-KADHI CHAAT:
®     Samosas-8 small
®     Yogurt-2 cups
®     Gram flour (besan)-2 tablespoons
®     Asafoetida-a pinch
®     Ginger-green chilli paste-1 tablespoon
®     Turmeric powder-1/4 teaspoon
®     Red chilli powder-1 teaspoon
®     Salt-to taste
®     Oil-2 tablespoons
®     Dried red chillies,broken-3
®     Black peppercorns-15-20
®     Fenugreek seeds (methi dana)-1/2 teaspoon
®     Cumin seeds-1 teaspoon
®     Onion,finely sliced-1 medium
®     Tamarind chutney-as required
®     Green chutney-as required
®     Sev-as required
Step 1:
Mix together yogurt, besan, asafoetida, ginger-green chilli paste, turmeric powder, red chilli powder and salt in a bowl and whisk well. Add 2½ -3 cups of water and whisk again.
Step 2:
Heat oil in a non- stick handi. Add red chillies, black peppercorns, methi Dana, cumin seeds and sauté till fragrant. Add the onion and sauté lightly.
Step 3:
Add the yogurt mixture and cook stirring continuously till it begins to thicken. Add the samosas and mix well. Transfer into a bowl, garnish with tamarind chutney, green chutney and sev and serve hot.
3)      KHATTA- MEETHA CHANA CHAAT:
Ingredients for khatte-meetha chutney                                                Other Ingredients
Chopped mint leaves2 Cup (32 tbsp.)                          Butter- 1 tablespoon
Chopped coriander 1 Cup (16 tbsp.)                            Cumin seeds- ½  teaspoon
Green chili 6, roughly chopped (4-6)                                      Chopped tomato- ½ cup
Sugar2 Tablespoon                                                     Cubed boiled potato- 1 cup
Cumin seeds1 Teaspoon                                             soaked & boiled Kabulichana-1cup
Lemon juice1 1⁄2 Tablespoon                                      Paneer cubes- ½ cup
Chat masala1⁄2 Teaspoon                                            chopped coriander- 2 tablespoon
Salt To Taste                                                                lemon juice- ½ teaspoon.
PREPARATION:
For Khatti Meethi Chutney:
1. In mixer, add mint leaves, coriander, green chili, sugar, cumin seeds, lemon juice, chat masala, and salt. Grind into a smooth paste using little water.
MAKING:
2. in a broad non-stick pan, heat butter, add cumin seeds and allow them to splutter.
3. Add tomato, potato cubes, and Kabuli Chana. Stir and cook over medium flame for 1 minute.
4. Stir in paneer, season with salt and cook for 1-2 minutes. Remove from the flame and keep aside to cool.
5. When cooled, add ¼ cup of khatti-meethi chutney, lemon juice and coriander. Toss well. Refrigerate for 1 hour.
Try these mouth-watering dishes and enjoy your day.
– Harshali Amin
The following two tabs change content below.
BMS Team aims to help the BMS students all over Mumbai colleges, empower BMSites and revolutionize management education. If you wish to be a part of our core team, write to contact@bms.co.in