Francis Scott Key Fitzgerald was an American author of novels and short stories, whose works are the paradigmatic writings of the Jazz Age, a term he coined. He is widely regarded as one of the greatest American writers of the 20th century.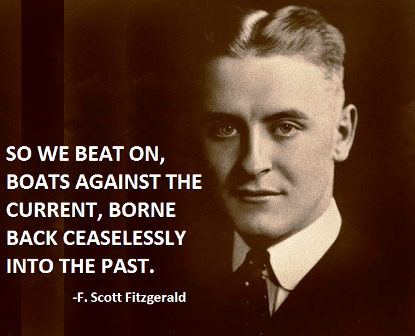 Here is a compilation of F.Scott. Fitzgerald Quotes:

1.It is sadder to find the past again and find it inadequate to the present than it is to have it elude you and remain forever a harmonious conception of memory.
F. Scott Fitzgerald2. The test of a first-rate intelligence is the ability to hold two opposed ideas in mind at the same time and still retain the ability to function.
F. Scott Fitzgerald3. I'm a romantic; a sentimental person thinks things will last, a romantic person hopes against hope that they won't.
F. Scott Fitzgerald4. First you take a drink, then the drink takes a drink, then the drink takes you.
F. Scott Fitzgerald5. Family quarrels are bitter things. They don't go according to any rules. They're not like aches or wounds, they're more like splits in the skin that won't heal because there's not enough material.
F. Scott Fitzgerald6. A great social success is a pretty girl who plays her cards as carefully as if she were plain.
F. Scott Fitzgeral7. All good writing is swimming under water and holding your breath.
F. Scott Fitzgerald8. Genius is the ability to put into effect what is on your mind.
F. Scott Fitzgerald9. You don't write because you want to say something, you write because you have something to say.
F. Scott Fitzgerald10. My idea is always to reach my generation. The wise writer writes for the youth of his own generation, the critics of the next, and the schoolmasters of ever afterward.
F. Scott Fitzgerald
The following two tabs change content below.
We, at BMS.co.in, believe in sharing knowledge and giving quality information to our BMS students. We are here to provide and update you with every details required by you BMSites! If you want to join us, please mail to
[email protected]