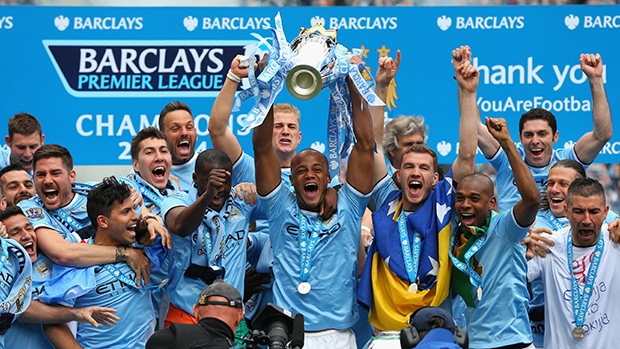 Manchester City are the defending Premier League Champions, few years back this club used to be just a small club battling for mid-table position but now when people think of Manchester City the first thing that comes to mind is, a club which has a heap of wealth available at its disposal due to their takeover by Billionaires from Middle East. It has become a club which possesses the capacity to sign any player on the planet. But Manchester city is also a club which plays fast skillful football and a club which has assembled a team to compete for any title.
The story of Manchester city is not less dramatic than a fairy tale. They were once in the third tier of English football, and have suddenly risen from ashes to be champions of the Premier League twice in three years. Over the years the worst part being Manchester City was being neighbors to one of the greatest clubs in the world Manchester United. City had been the younger and unsuccessful brother of Manchester United for several years, and was prone of living under the shadows of Manchester United.
But the faith of the club changed when it was bought by wealthy owners from the Middle East in 2008. The club underwent several changes like players being bought and sold and the construction of a new stadium. The owners made it clear that they were here for a long run. They bought in players such as David Silva, Yaya Toure, Samir Nasri, Edin Dzeko, Serio Aguero and many more. The whole look of Manchester city was changed and from being a below average team it went on to become the champions of England.
Manchester city won the premier league and the capital one cup last year. The citizens were hopeful that their manager Manuel Pellagrini would deliver and he did. They bought players like Jesus Navas , Alvaro Negredo, and Fernandinho who proved instrumental in city's successful season. But due to this heavy buying practices, city now has to face some trouble, due to the new financial fair play rules Manchester city has to face certain restrictions. But they still have managed to get the signings of Fernando the Brazilian central defensive midfielder from Shakhtar Donesk, and Frank Lampard who is on loan from the New York City for 6 months.
Overall city look again ready for the competition. With an solid defense under the leadership of Vincent company, the midfield under the likes of Toure, Silva, Navas, and the attacking talents of Aguero, Dzeko, and Negredo. And under the management of the tactical expertise of Manuel Pellagrini, this side looks to be one of the favorites to win the premier league. City's fans would be hoping the fast and gripping football that bamboozled the opposition last season can be enough to grab the title one more.
       – Jainam Jhaveri