A movie generally consists of a hero, a heroine, a genre on which the story is based and a few songs as bonus when it particularly comes to Bollywood. That's it! A perfect combination for a well balanced film. Oh wait! I am just forgetting the main ingredient required for a film to punch out box office numbers and come out as a thriller. Its none other than a 'VILLAIN'. The word itself makes you unsound and a sense of threat is instant in our nerves. Just imagine the impact a villain makes. Probably, a villain is the only factor which brings excitement in a movie, more than the hero-heroine chemistry. Although it is for sure that the villain is going to end his fate in the climax, still he is able to maintain the fear in the minds of the audiences till the very end. Its obvious that people will hate villain, after all he is an evil soul. But in real sense, the more hatred a villain gets, the more popular he becomes.
Bollywood has a long lasting list of villains who have made the country proud with their thrilling performances in the past, namely Pran, Prem Chopra, Ranjeet, Amrish Puri, Amjad Khan and so on……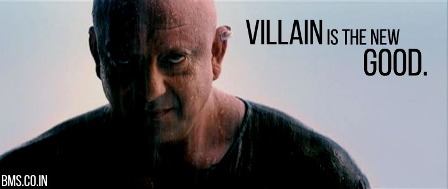 But these roles weren't primary roles in that particular movie, it was relative to the primary role of its adjacent hero. But as of now, time has changed. Villain is the new good. We have seen many instances in the near past of the lead being a villain, instead of an hero. The villain are given prime importance neglecting the sweet side. The evil avatar is the new cool and even the audiences love this as they want to explore something new and not the old broth like stories.
As we see the film makers have now opted to cast the villains in the lead roles rather than the heroes. Even the scripts and screenplays are written in such a way that the villains get more attention over the remaining cast. Let pen down some of them, going against the conventions, and setting the belief apart.
1. Randeep Hooda (Highway – 2014)
The Once Upon A Time In Mumbaai fame, may be familiar with the villainous roles but the one which depicted him the best was apparently Highway. Highway was a cult hit which showed the dark effects of family and unsteadiness of the outer world. Hooda is a remote gangster of a small town in Rajasthan who kidnaps the daughter of a renowned businessman as she turns out being his love interest. He is a mumma's boy who accidentally turns out to become a gangster. His avatar has been shown gracefully and got critical acclaim for his brilliant work in a negative role.
2. Riteish Deshmukh  (Ek Villain – 2014)

The son of two times Chief Minister of Maharashtra may not be a serious guy. His is best known for his antics and happy go lucky roles. It was a mere shock for his fans, to come up as a villain in a movie which already had another villain namely, Siddharth Malhotra. He was critically praised for his out of the box work and coming out of his comfort zone, he did made a strong impact over the nation, proving him as a actor of any genre and not just humor. He played the role of a serial killer who was of unsound mind and due to past instances of turmoil he opted to take away the joy from female citizens. Well we can very well say that, 'When going gets tough, the tough gets going.'
3. Akshay Kumar (Once Upon A Time In Mumbaai Dobara – 2013)
The Khiladi is often seen performing his martial arts or rather presenting his excellent comic timing on the screen. But as a googly to others, he chose to play this evil role of a retro gangster in the biggest town of the country, reprising the role of Ajay Devgn from the prequel. Though this movie failed to entertain the audience, the main antagonist role was purely portrayed by Akshay and even the critics gave a thumbs up to his work. However, it failed to create the same impact that the prequel made.
4. Aamir Khan (Dhoom 3 – 2013)

The so called Mr. Perfectionist of the Indian Cinema might have done some stupendous role in he past, but he too decided to come out of his basic juncture and accepted to play the dual role of twin brothers with an intention to rob and destroy a bank in Chicago as a revenge. Aamir stated that he liked his role very much as soon as he read the script and gave a smiling alarm to do this film. Sources say that he took many efforts to completely get transform into a villainous avatar so that he doesn't disappoint his audience. I'm sure that Yash Raj wouldn't have mind so after see the earnings it collected!
5. Shahrukh Khan (Don 2 – 2011)
Touted as the best actor of his generation and for generations to come, King Khan of the bollywood might be happening when it comes to romance, but he also no joke when serious acting counts. Shahrukh always means business and Don 2 is a classic example to support the phrase. The sequel to the remake of Big B's 'Don' depicted the life of an international don who manages to rob a bank and successfully escapes from the town. This is not the first time Shahrukh has shown interest in an evil character, how many of us may forget Baazigar? Shahrukh has proved that he is a versatile in each and every sense and acting flows in his blood.
If we take out each and every villain out of the idiot box, I guess this article will become a small place to live in. This clearly shows that why do we watch movies! Is it because of the hero? No. Heroine? Partially though. The Story? Not really. Songs? Not yet. Not all of these but because of a 'VILLAIN'!
-Parth Dedhia